Innovative carbon reduction solutions
Ahead of COP26, we began showcasing a number of innovative carbon reduction tools and solutions, solutions that we hoped would inspire our customers and influence the construction and infrastructure industry to be smarter and greener, faster.
It's not about investing in every new, emerging technology – it's about being selective and working alongside our customers and partners to invest in and create innovations that can positively impact our day-to-day operations. We must work together, and not in silo, if we are to really move the dial.
The Hub of the future
As part of our effort to upskill and educate our workforce, Balfour Beatty and Flannery Plant Hire launched the Operator Skills Hub in the UK.
The Operator Skills Hub is a purpose-built training facility in Birmingham offering innovative training programmes to inspire young people and upskill current plant operators.
Key to addressing the construction and infrastructure sectors significant skills shortage, the facility utilises state-of-the-art training simulators. Training using these simulators reduces the need for real tools, thereby reducing fuel consumption and emissions.
The Operator Skills Hub uses the latest semi-autonomous vehicles to prepare plant operators and apprentices for the modern-day, digitally-enabled construction site. Their mission is to educate the workforce of the future, for the future - including how to drive down carbon emissions on a modern, digitally enabled construction site.
Come hither!
Our signalling renewals teams working at Hither Green, London, have developed a new anchor post system to support elevated cable routes.
The new anchor post foundation uses steel micro-piles that are driven into the ground, removing the need to use cast in-situ posts.
Using this system, approved by Network Rail, has delivered a 73% embodied carbon reduction on materials, 89% material saving, and 60% time saving on foundation installed, with zero on-track plant and zero water consumed.
The system also offers a 40% cost saving, and reduces safety risks associated with signalling renewal for our team.
Small plant, big results
Our Plant & Fleet Services team now use the Milwaukee MX Fuel battery powered small plant, the first of their kind in the UK.
This small plant includes the 14" cut-off saw, the 25kg Hex Demolition Hammer breaker, and the Diamond core drill, with each one powered by a rechargeable battery.
As the plant is battery powered, they do not require any fuel, therefore emitting zero emissions. No emissions means that they can be safely used both indoors and outdoors, without any need for cables, generators or compressors, reducing the risk of slips, trips and falls. No fuel means a reduction in noise pollution too; our small plant battery solutions are good for the planet, good for our colleagues and good for the community.
The crane game
Our tower crane specialists who work in our Plant & Fleet Services team, in collaboration with the Group sustainability team, have developed a more sustainable system to power the aircraft warning lights on our cranes overnight.
Typically, aircraft warning lights and other accessories on our cranes operate using generator or mains power. The use of a battery, which is charged over the course of the day when the crane is in operation, has eradicated the use of an overnight generator or the constant supply of electricity from mains power, shifting to the use of stored energy as an alternative.
Over a six-month testing period on the Audley Watford project, the battery displaced a 20kVA diesel generator running out of hours. This saved approximately 3,510 litres of diesel, 9,560kg of CO2 emissions and £5,600 in plant costs.
This solution will now be offered to all projects requiring tower cranes and the team will look to further improve upon the design to support our wider sustainability agenda. 
Sun, sea and sustainability
Our US team have completed the North Coastal Health and Human Services Facility, California's first zero net energy building. The facility utilises low impact development standards and sustainable design principles, practices and performance, eliminating the need for fossil fuels to power the facility and significantly reducing carbon emissions.
The facility, which runs entirely on renewable energy, incorporates a number of water and energy conservation measures, maximising passive cooling techniques.
The facility has achieved a Leadership in Energy and Environmental Design (LEED) Platinum Certification - a mark of quality and achievement in green building.
Lean machines
Our Plant & Fleet Services team have developed a new digital "Machine Control" system, accurately positioning earthwork and civils machinery on site based, 3D survey design models and GPS systems.
This technology allows a machine to operate semi-autonomously, meaning colleagues can use the Machine Control system to operate them remotely. This increases accuracy when controlling a bucket or blade.
Using the system has led to a 46% reduction in project hours, a 34% reduction in equipment operating hours, and a 37% reduction in fuel consumption which has led to fewer associated carbon emissions​​​​​​​​​​​.
Smart savings
Working on the M4 Junction 3-12 motorway upgrade, our materials management team have made nearly £2 million of savings through on site reprocessing of 340,000 tonnes of aggregate and clay.
These materials were then reprocessed and reused on the project, along with other reprocessed materials which were subsequently used as sub-base materials. This smart materials management meant that, as well as money saved, we achieved a big reduction in the haulage of materials and associated emissions. The team estimates that approximately 340,000 kilometre of lorry movements and 265.2 tonnes of CO2 emissions were saved during an 18-month period. 
Sweet as Sweetwater
East Wick and Sweetwater forms part of the post-Olympic Games legacy development being delivered by the London Legacy Development Corporation (LLDC). In 2015, LLDC appointed East Wick and Sweetwater Projects, a joint venture between Balfour Beatty Investments and Places for People, as lead developer for the two new neighbourhoods.
Following grant of planning consent, the joint venture awarded the contract to design and build the first phase of the development to our UK Construction Services business.
Throughout the project, our team have made sure to prioritise sustainability. The residential units at Eastwick and Sweetwater were designed to 'Zero Carbon Homes' standard, utilising a 'fabric first' approach. They are powered by the Queen Elizabeth Olympic Park district heating network and on-site renewable energy. As well as this, the team achieved a 26% reduction in embodied carbon over the construction process.
​​​​​​​
It's alive!
The Southampton Highway Services Partnership, our partnership with Southampton City Council, have incorporated "living walls" into the structure of Southampton's Milbrook roundabout.
The £8.6 million Millbrook Roundabout regeneration project commenced in October 2017 and was completed ahead of schedule in April 2019. During the project, we challenged ourselves to find an installation that could become an aesthetic landmark to highlight the council's commitment to sustainability at a key gateway to the city, used by over 30,000 vehicles a day. Our team rose to the challenge, leading to the installation of the living walls.
Living walls are vertical structures that have different plant types or other greenery attached to them. The greenery is 'planted' using soil to allow for live, growing plants to be maintained as part of the structure. These installations have been shown to improve air quality by naturally absorbing harmful toxins, gases (including carbon dioxide) and particulate matter.
Our team's innovation was recognised earlier this year with a Gold Green Apple Award.
​​​​​​​
A lean cut of Gammon
Our Hong Kong joint venture, Gammon, have achieved an excellent carbon reduction while working at an impressive pace. 
During phase two of the Penny's Bay COVID-19 Quarantine Facilities project, Gammon designed and sustainably fabricated 700 temporary quarantine units in just 87 days. They achieved this through modular integrated construction, manufacturing 3D-volumetric fully finished modules at off-site facilities before moving them to the site for installation. This helps us to streamline the way we work, reducing carbon emissions during the construction process.
Completing 95% of all works using modular integrated construction methods, the team achieved:
A 68% reduction in waste sent to landfill compared to traditional construction methods

A 38% reduction in carbon intensity measured against a typical residential project average

A 76% reduction in water intensity
Thanks to modular integrated construction methods, the installation process was greatly accelerated, reducing the amount of time and energy spent on site.
Fleet of foot
In the UK, Balfour Beatty manages over 3,500 company cars on a four-year renewal cycle and we're working hard to remove traditional diesel-powered vehicles from the fleet as soon as possible.​
We no longer offer new cars with a diesel engine to anyone at any car grade: by the end of the year 60% of our car fleet will not have a traditional diesel engine. Within every grade there is the option of a plug-in hybrid vehicle, and over 30% of the choice list is now all electric which means we are well on our way to achieve our objective of the total removal of diesel-powered cars on the road by the end of 2024.​
The average CO2 emissions of company cars chosen this year is 39g/km (from 118g/km in 2019) and the average carbon footprint per vehicle is now 0.94 tonnes per annum (from 2.85 in 2019).​
By removing diesel engines from our UK fleet offer, our car choices so far this year represent a CO2 saving of 1,915 tonnes per annum.
Lighting the way
With over 600 tower lights in use across Balfour Beatty's UK businesses, we needed to find a way to significantly reduce the carbon emissions from this critical equipment. Working with suppliers Trime and Prolectric, our Energy Management and Plant & Fleet Services team have developed a range of hybrid and fully solar powered lighting units, over half of which are zero emissions.​
When we first started looking at improving the efficiency of tower lights five years ago, the average fuel (diesel) consumption was just under 2 litres/hour. By switching to LED solutions and hybrid tower lights we have reduced this to approximately 0.3 litres/hour.​
Our fully solar units don't use any diesel so generate zero emissions. They can be deployed all year round in the South of the UK; not only do they save carbon, they also generate less noise (in the case of hybrids) or no noise at all in the case of the fully solar powered units.​
Balfour Beatty has supported the development of these units by trialling prototypes, providing feedback and, in the case of Prolectric, helping to develop a software platform.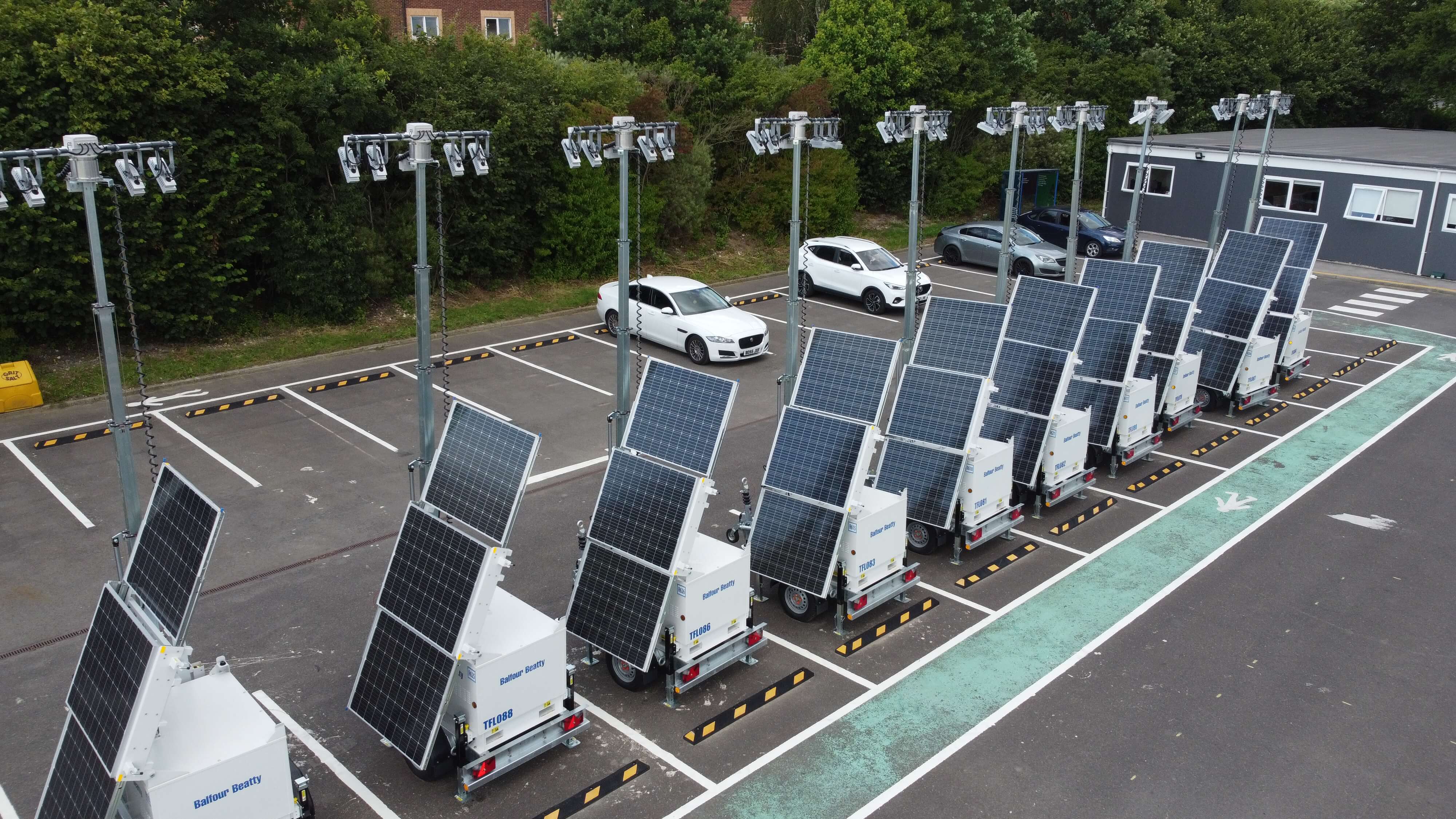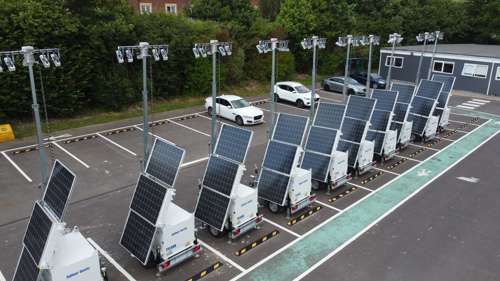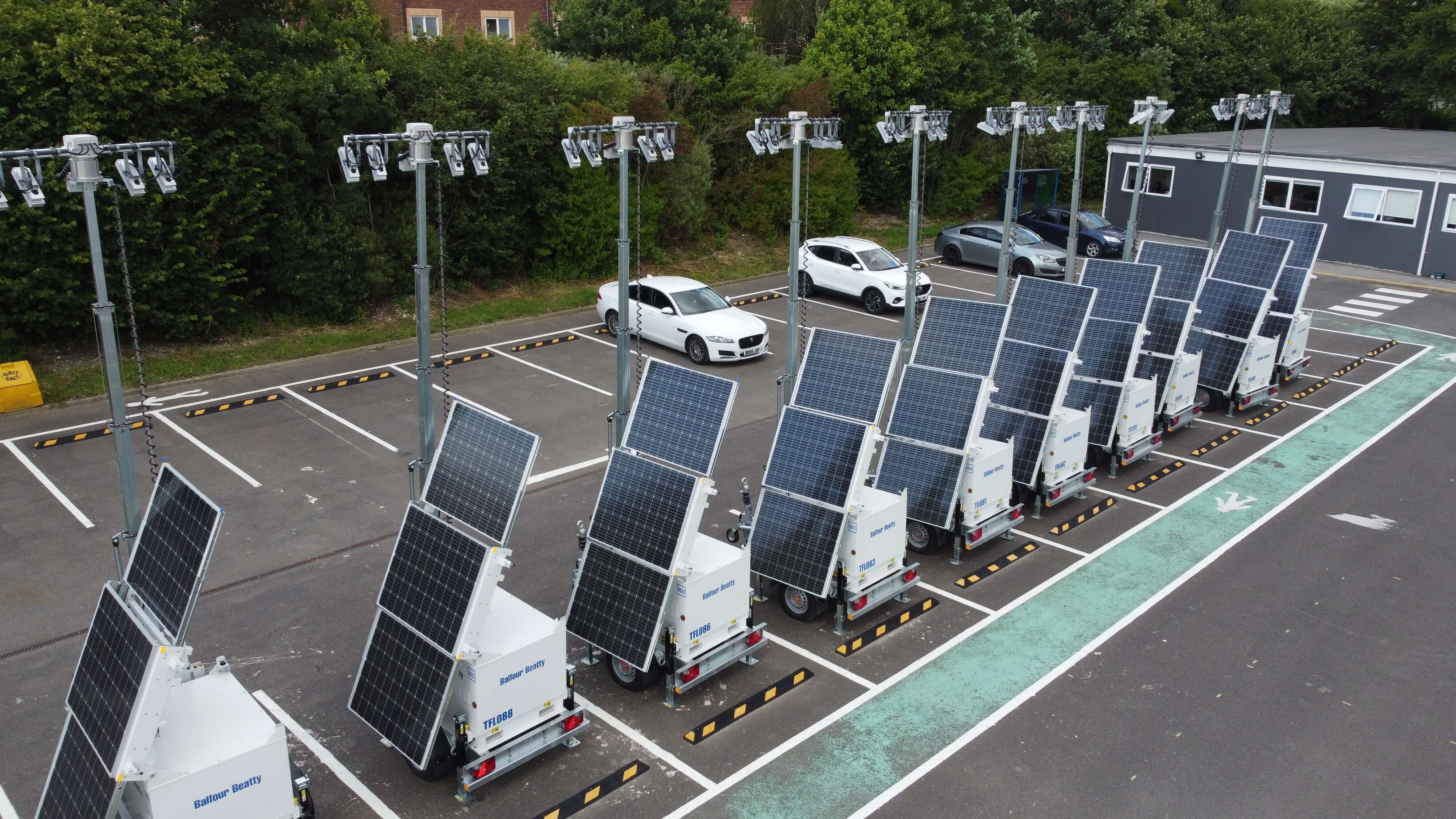 Electric mini excavators on the A63
On the A63 improvement scheme in Hull, we're using three of the industry's first electric mini excavators that produce zero tailpipe emissions.
We used a Prolectric ProPower Solar Hybrid Generator to power three electric mini-diggers on the scheme, delivering reductions in emissions and fuel use by up to 78%.
The generator provides clean and silent energy for the electric excavators; together they also improve the air quality with a reduction in fumes from plant exhausts.
Our video, featuring Plant Manager John Hall, showcases how we're thinking globally and acting locally on this project.
Photovoltaic renewable energy system at Gammon Technology Park
Our Hong Kong joint venture, Gammon, invested in a 200kWp capacity photovoltaic (PV) renewable energy system at Gammon Technology Park on Tseung Kwan O Industrial Estate. The 624 mono-crystalline silicon terrestrial PV system was installed on the roof of the mixed-use building; it will produce around 276 megawatt-hours (MWh) of electricity per year, equivalent to the annual consumption of about 60 households.
Enertainer, a lithium-ion battery storage system
Our Hong Kong joint venture, Gammon, has collaborated with Coastal Live Well Health Center and a Hong Kong based start-up, Ampd Energy, to develop the next generation of clean energy for construction sites, replacing diesel generators.
The result is the Enertainer, a lithium-ion battery storage system intended as the primary source of power for machinery with high peak demand on-site, which reduces on site CO2 generation by 85%.
EcoNet technology – reducing carbon emissions on construction sites
In collaboration with Sunbelt Rentals in the UK and IoT (Internet of Things) specialist Invisible Systems, we have launched new EcoNet technology to reduce carbon emissions on construction sites by up to 80%. The system, known as EcoNet, works by controlling and reducing the energy output from key appliances in cabins, such as those in kitchens, drying rooms and office spaces.
EcoNet is configured to autonomously manage power demand by automatically turning appliances and equipment off when not in active use. This helps to regulate power consumption during times when demand is highest, such as when site compounds are fully occupied, equipment is being operated and appliances, such as drying rooms and heaters, are in use.  Once fully embedded, it is expected that Balfour Beatty will save a minimum of 2,200 tonnes of CO2 per year, with individual sites reducing their carbon emissions between 30% to 80% of their normal levels.
AutoBIM Carbon Calculator
We have launched a cutting-edge 'carbon calculator' with Leeds Beckett University, University of Hertfordshire and White Frog in the UK, which can efficiently calculate the amount of carbon generated by design choices. This helps drive down the built environment's carbon emissions, offering a consistent, practical solution for the measurement of embodied carbon. The calculator identifies carbon hotspots in Building Information Models, allowing us to work with designers and architects to reduce or remove them. It also helps us to offer low carbon alternatives to our customers.