Our safety timeline
Since the founding of Balfour Beatty in 1909, the company has consistently been at the forefront of safety innovation.
We've continuously refined our processes and procedures through the decades which gives us the confidence that the methods we use today are at the leading edge of construction safety.
We're working hard to design out risk, right from the start of our projects to find ways of reducing exposure to risk while protecting the health and well-being of our workforce.
Take a look through the archives below to see how we got to where we are now and our plans for the future - 
1900-1929
Coal Mines Act of 1911
This comprehensive 'Coal Mines Act' in the UK followed earlier legislation in 1872 and 1888 to protect mine workers and ensured all mines and tunnels had rescue stations and trained staff.


The Industrial "Safety First" Committee of 1917
The committee was established to tackle workplace safety on a national scale. This organisation would eventually become the Royal Society for the Prevention of Accidents (RoSPA).
Above: In 1917 at Balfour Beatty's Loch Leven project in Scotland, the final pipe is swung into place to create the 8km aqueduct between Loch Eilde Mor and Blackwater Reservoir. Operatives wore heavy, dark clothing and non-protective hats primarily for warmth.
Above: The introduction of steam powered machines enabled heavy lifting at Rannoch power station c.1918.
1930-1959
The formation of the Royal Society for the Prevention of Accidents (RoSPA) - 1941
The Safety First Committee that had formed during the First World War went on to receive royal association from King George VI in 1941. The charitable organisation continues today as RoSPA with the mission of preventing all accidents.
Above: Early tunnelling practices, c.1938
1960-1989
New construction regulations
The 'Construction Regulations - General Provisions' and the 'Factories Act' were brought in during 1961 to govern dangerous processes and plant.

In 1965, the 'Construction Order - Notice of Operations and Works' was introduced and would later go on to be replaced by the more recognisably known Construction (Design and Management) CDM regulations of 1994.
In 1966, the Construction Regulations for Working Places were updated to cover the erection of scaffolding including access and egress.
In 1974, The Health and Safety at Work Act defined the fundamental structure and authority for the encouragement, regulation and enforcement of workplace health, safety and welfare within the United Kingdom.
Above: Operatives on the Isle of Skye are installing a new HV cable, c.1978.
In 1980, employers were required by law to record and report all accidents in the workplace and so began the monitoring of health and safety incidents statistics and trends.
Above: These operatives were working on the Channel Tunnel, c.1986.
In 1989, new construction regulations were established to mandate the use of 'suitable head protection' during all building operations and all 'works of engineering construction'.
1990-2019
In 1992, six regulations came into effect that would dramatically change how health and safety was implemented in the workplace.


Workplace Regulations (Health, Safety and Welfare)
These set out requirements for accommodation standards at nearly all workplaces.
Provision and Use of Work Equipment Regulations
These sought to address, control and prevent workers' risk of injury and death from equipment they use during the course of their jobs.
Manual Handling Operations Regulations
These ensured that employers 'avoid the need for employees to undertake any manual handling operations at work which involve a risk of their being injured'. Employers must take all appropriate steps to reduce risk.
Personal Protective Equipment at Work Regulations
Every employer must ensure that suitable personal protective equipment is provided to employees who may be exposed to a risk to their health or safety while at work. This includes hard hats, eye protection, safety harnesses, life jackets and safety footwear.
Health and Safety (Display Screen Equipment) Regulations
Every employer must assess all workstations that involve display screens for risks and reduce these as much as possible.
Management of Health and Safety at Work Regulations
These made more explicit what employers were required to do to manage health and safety under the Health and Safety at Work Act. Like the Act, they apply to every work activity.
In 1994, the 'Construction Design & Management Regulations' (CDM) were launched.
In 1996, 'Construction Health, Safety and Welfare Regulations' set new safety standards on almost all construction sites.
Above: A Balfour Beatty engineer fixes cables in the Limehouse Link tunnel in London's Docklands c. 1996.
In 2007, the 1994 and 1996 legislation was replaced with the new 'Construction Design and Management Regulations' (CDM).


Zero Harm at Balfour Beatty
In 2008, Balfour Beatty introduced its own Zero Harm programme in which the company set out its mission to reduce all workplace accidents to zero.
Above: The original Zero Harm marque used a yellow circle to highlight a person at risk.
In 2015, the Construction (Design and Management) Regulations' built on the earlier 2007 regulations. These now govern the way construction projects of all sizes and types are planned.
The definition of "construction work" was expanded to include building, civil engineering or engineering construction, as well as temporary structures used for events and productions.
New technological innovations already in Safety in use today
See Our safety innovations page for information about how today's sites are designing out risk prior to construction beginning.
Wearable Technology
In 2017, our Gammon joint venture in Hong Kong were trialling the use of exoskeletons to reduce the strain of manual lifting. This is one of several pieces of wearable technology that we are using to reduce injury, vibration and fatigue risks.
2020 and beyond
What's next in the future of construction sites?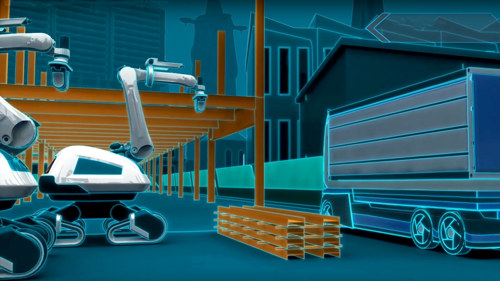 Read about our views on what the site of the future might be like here in our Innovation 2050 paper.
Will all site machinery be operated remotely?
Will most construction work happen offsite using pre-fabrication?
Will we print structural components using new materials as and when they're needed?
Will most on-site operations become fully automated?
Watch Balfour Beatty's vision of the construction site of the future...