What that means in actual terms is 108 Graduate placements, 160 Apprenticeships and 29 Trainee positions, bringing the total percentage of our company's workforce in 'earn & learn' positions to 5.7%, up from 5.4%. On Tuesday, we welcomed nearly 300 of our newest recruits in our first virtual Emerging Talent induction event.
Why are we doing this? Because I believe the economic fallout from COVID-19 will cast a long and damaging shadow over today's young if we do not act. Swathes of young people face an uncertain future as businesses define their future. But we mustn't lose sight of the fact that those most at risk of losing their chance to build skilled careers, are critical to helping us rebuild the economy – and our society – as we emerge from the crisis.
As many companies look to cut their training programmes in response to the uncertainty posed by COVID-19, I believe it's vital that business leaders stop, think and recommit to investing in the future through skilled employees.
Reducing the intake of Apprentices, Graduates and Trainees may help in the short term, but what about the long-term implications for our global competitiveness and our society? As a country already plagued with skills shortages, is now not the time to double down, stand firm and stay committed to the younger generations?
I firmly believe the answer is yes.
The importance I place on that commitment to the younger generation is why I founded The 5% Club in the first place. And I believe the opportunities and training we give to our younger colleagues at Balfour Beatty are why we're now recognised as the 6th most desirable company in the UK that students aspire to work for when they graduate, and why we are the only construction and infrastructure company to feature in the Top 20.
I've written to the CEO's from across the UK's FTSE 250 companies, as well as members of The 5% Club, and I know that many feel as passionately about this as I do. We've also been recognised and supported by the Apprenticeships and Skills Minister, Gillian Keegan, who believes, just like I do, that there "has never been a more critical time to invest in new talent and help create more job opportunities".
As a company, we will keep doing everything we can. I hope that many more will stand with me and hold true to their original training plans.
The country's future will be decided by the choices we make today, and this is too important an issue not to act. We must not let an entire generation down.
We entered the COVID-19 crisis with a national skills shortage. It is our duty to help bridge that skills shortage to provide exciting and challenging opportunities for young people across the UK and to look beyond the immediate, to what we will need to build a strong, prosperous, Global Britain – for everyone.
Leo Quinn
Group Chief Executive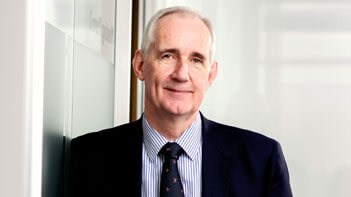 Leo Quinn, Group Chief Executive