At Balfour Beatty, our number one priority is always the health, safety and wellbeing of everyone - it's at the crux of everything that we do and is our license to operate. Under Build to Last, we've certainly come a long way to become safer with our Lost Time Injury Rate sitting at 0.12 – a notable improvement from 2014 when it was 0.29!
However, our mission to achieve Zero Harm is a continuous one, and whilst the improvements since 2015 are laudable, there is always more that we can do to truly make a significant step-change across our business.
Whilst we have sites that span three different continents, the health and safety challenges aren't so very different. At Balfour Beatty, we've identified ten Fatal Risks which we recognise as the fundamental health and safety issues faced across our business:
Buried services
Catastrophic events
Driving
Electricity
Excavations
Health (including Mental Health)
Lifting
Plant/People interface
Traffic Management
Working at height
These fatal risks know no borders, do not discriminate and challenge us all daily.
That's why we've launched 'The Big Conversation' – a month long campaign connecting our people across our three geographies, the UK, US and Hong Kong, to encourage open and honest conversations about health and safety on a global scale.
We're bringing our people together to share best practice and learnings on these ten areas. They'll investigate, dissect and analyse these risks to help find innovative solutions that we can share across our business to help mitigate them.
Each project will be matched, or partnered, with another project. Using Microsoft Teams, the matched projects can be connected, and have a conversation, regardless of location and regardless of geography. So we'll see people working on the UK's landmark nuclear power station, Hinkley Point C in the UK, those working on the expansion of Hong Kong's International Airport and people working on the new Disney theme park in Florida in America, talking to each other, sharing solutions and solving problems as easily as if they were sitting in the same room together.
This Big Conversation is a first in Balfour Beatty. But it's an exciting step forward in our journey to Zero Harm; bringing together our minds in the world of Health and Safety to think outside the box, generate creative ideas and capitalise on the fresh perspective that experiences from different projects, businesses and countries can offer.
Following this month-long conversation, we'll be sharing the findings as well as meaningful, measurable action, across our business with all employees, regardless of role. That's because the key to improving health and safety, and tackling these ten fatal risks, is knowledge sharing outside of the health and safety community; to evolve our people's way of thinking when it comes to risks on site and to bring them along – hand in hand – as we make Balfour Beatty a safer place to work.
I'm confident that the incredible collective ingenuity, knowledge and energy of our international workforce will help us to tackle some of our most prevalent health and safety issues.
I'm ready to have a Big Conversation – are you?
Heather Bryant
Health, Safety, Environment & Sustainability Director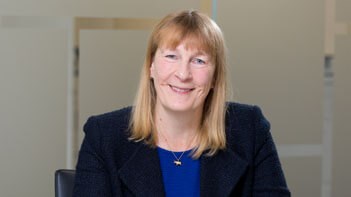 Heather Bryant, Health, Safety, Environment & Sustainability Director