Project Engineer, Ayo Ogunbambi-Alao, discusses her views of Balfour Beatty's reverse mentoring programme
I have been involved in Diversity & Inclusion at Balfour Beatty for more than three years and was previously a co-chair of Balfour Beatty's Multi-Cultural Affinity Network (MCAN).  MCAN, alongside the other Affinity Networks; Gender, Ability and LGBTQ+, contributes to Balfour Beatty's Value Everyone Action Plan which sets out our journey towards becoming a truly diverse and inclusive business.
As part of this, Balfour Beatty's reverse mentoring programme was launched in 2019 with the aim of supporting our focus on diversity and inclusion (D&I) by connecting the corporate message to personal stories and experiences. I was honoured to be not only one of the first participants, but to be paired with Leo Quinn, Balfour Beatty's Group Chief Executive.
By connecting members of different under-represented groups across the business with senior executives, the programme aims to provide a richer understanding of the challenges faced by minorities at a senior level.
Naturally, each partnership is unique and explores different topics. Through my own conversations with Leo, we discussed many subjects including unconscious bias, sexism, anti-racism, recruitment, retention, allyship, LGBTQ+ and strategic direction. We worked to develop an understanding of what contributes to a diverse and inclusive environment, whilst highlighting some of the challenges and opportunities within the organisation.
In the last two years, the programme has formed 70 partnerships between 140 individuals across the business, enabling senior leaders to improve their understanding of minority experiences within the workplace. The cumulative discussions and lessons learnt from the programme are broad and far-reaching.
After the Black Lives Matter protests last year, Leo opened the MCAN's 'Let's Talk About Race' webinar by sharing his learnings from reverse mentoring and making clear that Balfour Beatty officially has a zero-tolerance stance on racism. It was then great to see Balfour Beatty become the first construction and infrastructure company to sign the Audeliss and Involve Open Letter in October 2020, committing to engaging and measuring long-term actions for black inclusion within our UK business. This in turn led to the development of our Black Inclusion Plan earlier this year. It is through actions like these that I can see the real, tangible benefits of the reverse mentoring programme.
Apart from my own positive experience, the all-round success of the Reverse Mentoring programme means that for the first time, we have rolled out the scheme to one of our joint ventures this year. It's great to know that our joint venture partners will now get to benefit from the learnings that we've gained through our own mentor programme.  
As a result of my participation in the scheme I'm now working on progression and retention as part of the Black Inclusion Plan, which aims to support and do more to celebrate Black leaders and Black talent in our organisation. It's a further opportunity for me to affect positive change across the company.
These last two years have not only provided an opportunity for me to influence the understanding of Balfour Beatty's leaders, but to also really move the dial in how we think about inclusion at work; it's been a meaningful and worthwhile experience and I look forward to contributing to Balfour Beatty's journey over the coming years.
To hear more from Ayo and Leo on their views of Balfour Beatty's reverse mentor programme and what they have learnt from each other, click here to watch a short video.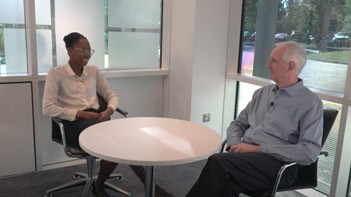 Ayo Ogunbambi-Alao, Project Engineer