Balfour Beatty is widely acknowledged as a company that has fully embraced Telematics, using the technology to understand what plant and machinery it has on site, how it is being used, where it is and how it relates to the activities planned.
In the article Director of Data and Digital Technology, James Veitch, explores the importance of Telematics, not only in understanding its own plant and machinery, but also the kit Balfour Beatty has hired, or that has subcontractor has brought in themselves.
James also highlights how Telematics is driving sustainable outcomes and improving health and safety on site.
Talking specifically about Balfour Beatty's M4 motorway upgrade project, he said: "We were able to identify where people were letting the engines idle for too long. We saved something like 150,000 litres of fuel over the life of that project, which is about 400 tonnes of CO2."
James also mentions that Balfour Beatty is exploring the possibilities Telematics will unlock in the future, examining how the technology might improve haulage and logistics by tracking delivery vehicles, the routes they take and their arrival times - driving further efficiencies and boosting productivity.
Read the article in full here.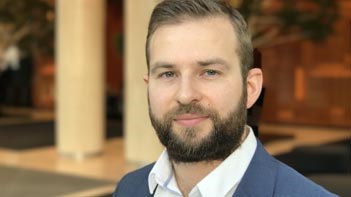 James Veitch, Director of Data and Digital Technology