Balfour Beatty's joint venture with Cavendish Nuclear working with Sellafield Ltd, was praised at the Association for Project Management (APM) awards this week, as it secured the prestigious Engineering, Construction and Infrastructure Project of the Year award for the delivery of the Silo Maintenance Facility at Sellafield.
The project was recognised for project management excellence, successfully delivering the project over a period of eight years and executing over four million manhours, with no lost time incidents. 
In addition, the project was commended for its approach to mental health awareness, working with Mental Health First Aid England to train employees to identify stress or mental health issues and provide those affected with appropriate support.
Iain Wilson, Director of Nuclear at Balfour Beatty, said: "This is a great achievement for our joint venture and testament to our collaborative approach which will support the successful decommissioning of the Sellafield nuclear site.
"Throughout the project lifecycle, we created an environment whereby standards were not just followed but adopted into the mindset of the project; resulting in the facility not only being delivered to cost and schedule but achieving an outstanding safety performance."
Awarded in 2014 and completed earlier this year, the £250 million Silos Maintenance Facility contract saw Sellafield Ltd, Balfour Beatty and Cavendish Nuclear work together to design, construct, install and commission the facility which will maintain critical machinery in Sellafield's nuclear decommissioning process to ensure a safe, secure environment.
ENDS
Media enquiries to:
Vivienne Dunn
Balfour Beatty
+44 (0)207 963 2150
vivienne.dunn@balfourbeatty.com
www.balfourbeatty.com | follow us @balfourbeatty
All non-media related enquiries should be directed to +44 (0)20 7216 6800 or info@balfourbeatty.com
Notes to editors:
Balfour Beatty (balfourbeatty.com) is a leading international infrastructure group. With 26,000 employees, we provide innovative and efficient infrastructure that underpins our daily lives, supports communities and enables economic growth. We finance, develop, build and maintain complex infrastructure such as transportation, power and utility systems, social and commercial buildings.
Our main geographies are the UK, US and Hong Kong. Over the last 110 years we have created iconic buildings and infrastructure all over the world including the London Olympics' Aquatic Centre, Hong Kong's first Zero Carbon building, the National Museum of the Marine Corps in the US and the Channel Tunnel Rail Link.
Balfour Beatty began its association with nuclear power at Calder Hall, Cumberland, when in 1953 the company delivered all lighting for the UK's first nuclear power station. In subsequent decades, the business has delivered over 70 nuclear projects for over 40 clients which have allowed us to develop our nuclear expertise, particularly in the areas of electrical and civil engineering. As the UK takes its next steps forward towards a low-carbon economy, Balfour Beatty has forged new partnerships with businesses that will help it maintain its position at the centre of British electricity generation.
At Sellafield, in joint venture with Jacobs and Amec Foster Wheeler, Balfour Beatty is constructing a £300m Box Encapsulation Plant, which is a significant asset within the site's decommissioning strategy and will treat, immobilise and prepare nuclear waste for long-term storage.
In January 2019, Balfour Beatty was appointed to deliver a £214 million contract to provide 400kV overhead lines from Hinkley Point C on behalf of National Grid. As part of the contract, Balfour Beatty will design, supply, install, test and commission a new overhead line spanning 48.4 kilometres and crossing through the Mendip Hills in Somerset. On completion, the new line will connect the power station with a new substation in Avonmouth, Bristol. This contract represents the fourth major piece of work won by Balfour Beatty for the new power station, following the electrical works package in joint venture with NG Bailey in 2015, now part of the MEH Joint Venture, the tunnelling and marine works package in 2017 and the 8.5-kilometre cabling contract won in 2018.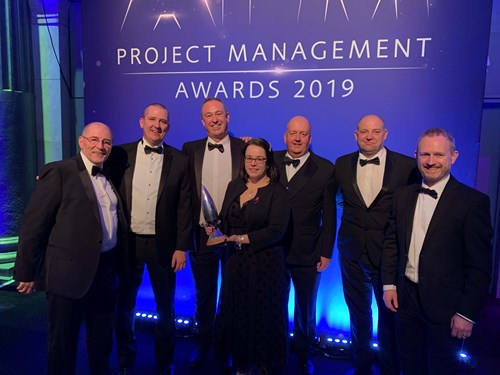 Image: The joint venture team at the Association for Project Management (APM) awards