Back in 1837 when Charles Darwin was making his ground-breaking discovery in the Galapagos Island, leading to his theory of evolution, little did he imagine it might be applied to the life and death of big business. We often hear Darwinist phrases, like 'survival of the fittest' bandied around the media, but seldom are they backed up in research.
This month, the Cambridge Judge Business School announced the results of their natural-selection inspired study into UK companies who have survived 70+ years. They found that of 1,513 UK companies existing in 1948 when the Companies Act was passed into law, only 19 of those companies remain today.
Balfour Beatty is one of them, 112 years old and holding the 'Corporate Darwinism' title alongside household names such as Marks & Spencer, Tesco, Unilever, and Whitbread. The Cambridge study went on to note that 'the companies which survived over the period showed the ability to adapt their business activities, in some cases radically".
Being fit and agile in the dynamic business environment is critical, and Balfour Beatty's ability to adapt to external change is a fundamental reason that the company survives today. 
Back in 2015, Balfour Beatty had issued seven profit warnings and fought off a takeover bid from competitor Carillion. Since then the company has turned around from £371m in debt, to £500m cash in the bank, with an enviable project portfolio across the UK, US and Hong Kong. But that's just one side of the story.
What makes Balfour Beatty a stayer, a company that sits proudly among those household names, is its ability to not just survive but thrive, in times of change. I need not point to what the world has experienced over the last year, but it proves that when working under acute stress, Balfour Beatty has a culture that rises to the occasion and emerges stronger.
My conclusion on the Cambridge Survey is that it's not just the fittest who survive; it's the winning combination of instinct, readiness, the courage to pause and refocus when something isn't right and the experience to spot the opportunities, to assess the risks and seize the moment. It's that ability to combine doing what we say we will do for the customer now, but also being ahead of the curve and adapting to move forward. It's about nurturing the right culture, that we pass on to new colleagues along the way.
That's how to stand the test of time, and that's how Balfour Beatty will continue to build Balfour Beatty for the next 100 years.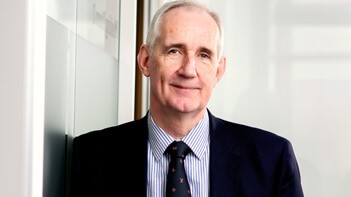 Leo Quinn, Group Chief Executive