Balfour Beatty was commended for their workplace learning initiative at the Princess Royal Training awards this week, presented by HRH Princess Royal and delivered by the City and Guilds Group.
Balfour Beatty was recognised for their Commercial Development Programme which focuses on providing employees with the knowledge, skills and behaviours required to deliver the commercial decisions needed for business success. The commercial training has led to a significant return on investment and an increased awareness of commercial governance, enabling an Expert and Trusted workforce.
The awards, now in their fourth year, recognised 44 inspirational UK employers for their commitment to learning and development, celebrating their exceptional training and development programmes and their substantial impact on their organisation and its people.
Jo Volk, Balfour Beatty Talent and Development Director, said: "We are delighted to have received this prestigious award for our outstanding Commercial Training Programmes. The award reflects the major focus we place on both the ongoing development and positive engagement of our Expert workforce to enable us to deliver industry leading infrastructure to our customers.
"With the current skills shortage we are experiencing in the industry, it is essential that we provide employees with the skills required to nurture a long-term, successful career in the infrastructure and construction industry.  I'm proud to say more than 2000 employees have benefitted from our Commercial training and we have further programmes planned for 2020 and beyond."
Chris Jones, Chief Executive of the City and Guilds Group, commented on the award: "The remarkable employers we recognised last night demonstrate the power that comes from investing in people and training as a vehicle to strengthen organisations and open up opportunities for people."
Balfour Beatty invests in their workforce, offering opportunities for continuous development and embraces blended learning which spans formal training programmes, e-learning, webinars, in role development, coaching and mentoring.
To find out more about a career with Balfour Beatty, click here.
ENDS
Media enquiries to:
Megan Wood
Balfour Beatty
+44 (0)207 963 2150
www.balfourbeatty.com | follow us @balfourbeatty
All non-media related enquiries should be directed to +44 (0)20 7216 6800 or info@balfourbeatty.com
Notes to editors:
Balfour Beatty (balfourbeatty.com) is a leading international infrastructure group. With 26,000 employees, we provide innovative and efficient infrastructure that underpins our daily lives, supports communities and enables economic growth. We finance, develop, build and maintain complex infrastructure such as transportation, power and utility systems, social and commercial buildings.
Our main geographies are the UK, US and Hong Kong. Over the last 110 years we have created iconic buildings and infrastructure all over the world including the London Olympics' Aquatic Centre, Hong Kong's first Zero Carbon building, the National Museum of the Marine Corps in the US and the Channel Tunnel Rail Link.
In 2018, the UK recruited 94 graduates, 102 apprentices and 20 trainees. The proportion of the UK workforce in 'earn and learn' positions has increased from 3.1% in 2014, to 5.6% at the end of 2018.
Balfour Beatty is a member of 'The 5% Club', a UK employer-led initiative focused on creating momentum behind the recruitment of apprentices and graduates into the workforce. Chief Executive Leo Quinn was the founding member of the 5% Club. Balfour Beatty joined in December 2013, the first company in the infrastructure industry to join.
The 5% Club works with UK employers and key influencers to inspire, educate and retain a growing body of people into "earn and learn" placements to increase the number of apprentices, sponsored students and graduates. The goal of the 5% Club is to increase the employment and career prospects of today's youth and equip the UK with the skilled workforce it needs to safeguard Britain's economy.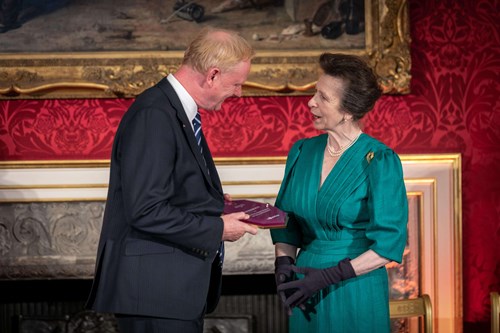 Image: Nigel Roberts, Balfour Beatty Major Projects Commercial Director, collected the award on behalf of the business from HRH Princess Anne.