A custom-designed, vehicle-mounted vacuum litter picker has been developed and built by Balfour Beatty Plant & Fleet in partnership with Connect Plus Services (CPS), the company which operates and maintains the M25 on behalf of Connect Plus and Highways England.

The innovative new design enables maintenance crews to collect litter of various sizes, shapes, and weights from the roadside with the use of a handheld vacuum pipe secured to a custom-built machine, mounted on a truck bed. The litter is then deposited into a compartment within the vehicle, and any dust contained through a specialised filter.

The litter picker was designed and built by the partnership, working collaboratively with CPS' litter picking crews to ensure the new device improved the workers' health and safety when working on the UK's busiest motorway, whilst also improving the rate of litter picking.

Through the implementation of the vacuum pump, which pulls litter in with suction as opposed to teams manually collecting the waste, the machine will increase the speed at which litter can be collected whilst reducing the amount of time workers spend on a live highway environment. In addition, the new vacuum pump also removes the chance of crews coming into contact with hazardous or unpleasant substances. 

Following a successful trial on the M25 network, the vehicle will now form a crucial part of Connect Plus Services' fleet.

David Neal, Managing Director of Connect Plus Services, said: "We are delighted to have worked with Balfour Beatty Plant and Fleet to develop this innovative piece of equipment. In 2018 we collected over 50,000 bags of litter from the M25 and its surrounding roads, which requires extensive resource and expert planning to ensure the network remains clean and clear, with minimal impact on the travelling public.
"The M25 is one of the busiest and most strategic road networks in the UK. Through continuous innovation, we can reduce the time our highways maintenance teams spend litter picking on live highways networks, as we strive to create the safest working environment and better journeys for all."
Andy Ormerod, Managing Director of Balfour Beatty's Plant and Fleet Services business, said: "With health and safety at the heart of everything we do, we are pleased to have been able to provide an innovative solution to our workforce which reduces risk and increases productivity.
"Our expert capabilities have allowed us to design and build a state-of-the-art piece of equipment, taking into consideration challenges currently being faced by those working on highways projects. Embedding innovation into our projects allows us to offer a solution focused outcome for our clients."
Nicola Bell, Highways England South East regional director, said: "Hundreds of thousands of people use the M25 each day, and litter is a real problem. This innovative vehicle will help roadworkers to clear litter much more quickly than picking it by hand, and will also free up time for other maintenance and safety priorities – and also our work together with Connect Plus to encourage people not to drop litter in the first place.
"Litter on roads can cause a hazard to drivers, our workers and wildlife, so I'd urge everyone to keep a bag in their car which they can use for rubbish, and then put it in the bin when they get home to improve the experience of everyone who drives on or lives near the M25."
With safety a key priority, litter picking crews will receive in-depth training to use the machine and measures will be taken to ensure a safe environment when in action. 
ENDS
Media enquiries to:
Megan Wood
Balfour Beatty
+44 (0)207 963 2150
megan.wood@balfourbeatty.com
www.balfourbeatty.com | follow us @balfourbeatty
All non-media related enquiries should be directed to +44 (0)20 7216 6800 or info@balfourbeatty.com
Notes to editors:
About Balfour Beatty
Balfour Beatty (balfourbeatty.com) is a leading international infrastructure group. With 26,000 employees, we provide innovative and efficient infrastructure that underpins our daily lives, supports communities and enables economic growth. We finance, develop, build and maintain complex infrastructure such as transportation, power and utility systems, social and commercial buildings.
Our main geographies are the UK, US and Hong Kong. Over the last 100 years we have created iconic buildings and infrastructure all over the world including the London Olympics' Aquatic Centre, Hong Kong's first Zero Carbon building, the National Museum of the Marine Corps in the US and the Channel Tunnel Rail Link.
Balfour Beatty's Plant & Fleet services business offers complete plant expertise and, safe and efficient fleet services. Balfour Beatty's plant team sources and manages all items of plant from everyday tools to specialist overhead line equipment. Balfour Beatty's fleet services team manages around 6,350 company cars, vans and heavy commercial vehicles, including a variety of specialist equipment for applications such as road gritting, traffic management, surface dressing and suction excavation.
About Connect Plus Services
Connect Plus Services (CPS) is a consortium of Balfour Beatty, Atkins and Egis Road Operation UK, which has a 30-year contract with Connect Plus to undertake servicing on behalf of Highways England.
The contract, which started in September 2009, is to operate and maintain the 440km M25 motorway network, including all adjoining trunk and slip roads, which span six counties. CPS also has responsibility for the Dartford-Thurrock River Crossing in Kent, comprising both Dartford Tunnels and the Queen Elizabeth II Bridge.
With a workforce of around 600 people, based at seven locations around the network, CPS carries out routine maintenance, and whole-life management of thousands of M25 assets. CPS manages the operation of the network 24 hours a day, 365 days a year, including a severe weather season maintenance programme.
CPS is dedicated to identifying innovative solutions to improve journey time reliability and customer experience.
For further information please access https://www.connectplusm25.co.uk/connectplusservices/
 or follow us at

 

https://twitter.com/cpservices_m25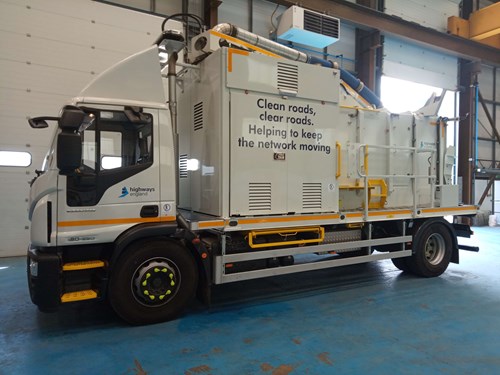 Image: Vehicle-mounted vacuum litter picker developed and built by Balfour Beatty Plant & Fleet in partnership with Connect Plus Services