Balfour Beatty, the international infrastructure group, has completed a £12 million design and build project to deliver a new four-track test and commissioning facility on behalf of Bombardier Transportation in Derby. The facility was officially opened by the Secretary of State for Transport, Patrick McLoughlin MP, on Friday (13 May).
Awarded in February 2015, the contract involved the construction of a 250 meter long V Shop Industrial Building, housing four multi-functional train lines, to initially test and commission the 66 nine-car Aventra Class 345 EMUs that Bombardier is supplying for the Crossrail project in London. Each line has a full length 25 kV 50 Hz overhead line and inspection pit, containing a full range of services that is fully accessible by rail at both ends and connects into the existing test track facilities. The project also created office space in the form of a two-storey annex, along with associated power upgrade works to the site to facilitate the overhead electricity lines.
Paul Weaver, Delivery Unit Managing Director for Balfour Beatty, said; "We were delighted to welcome Patrick McLoughlin MP, Secretary of State for Transport, to officially open Bombardier Transportation's new testing facility. The facility will initially allow for testing of the new Crossrail trains, and subsequently support future train builds. The project built on our joint civils and building business expertise in creating this type of facility. It benefitted from the adoption of Level 2 BIM principles and at peak saw 90 construction workers employed."
Speaking at the launch event, Mr McLoughlin said, "I am delighted to open this new testing and commissioning facility in Derby, which will ensure passengers benefit from cutting edge trains with improved capacity and comfort. The government is making a record investment in our railways and it is fantastic to see firms such as Bombardier, who are delivering a £1 billion contract for Crossrail as well as London Overground, make the most of the opportunities this brings. This new facility will help secure jobs in Derby, at the heart of the UK rail industry, and help to drive the Midlands engine for growth."
Richard Hunter, Managing Director, Bombardier Transportation UK said, "This new £12 million facility is one of the biggest investments in the history of our Derby site and 'V' Shop (as the finished test facility will be known) will be a fundamental part of both our current projects and future train builds, enhancing our ability to deliver all the stages of a new train product from a single UK site. It increases our capacity to deliver high volume orders within short timescales, ensuring we meet the future requirements of the UK market".
ENDS
Media enquiries to:

Gill Stephens
Balfour Beatty
+44 (0)207 963 2150
+44 (0)7966 895011
gill.stephens@balfourbeatty.com
www.balfourbeatty.com | follow us @balfourbeatty
All non-media related enquiries should be directed to +44 (0)20 7216 6800 or info@balfourbeatty.com
Notes to editors:

Balfour Beatty (www.balfourbeatty.com) is a leading international infrastructure group. With 34,000 employees, we provide innovative and efficient infrastructure that underpins our daily lives, supports communities and enables economic growth. We finance, develop, build and maintain complex infrastructure such as transportation, power and utility systems, social and commercial buildings. 
Our main geographies are the UK, US, Middle East and South East Asia. Over the last 100 years we have created iconic buildings and infrastructure all over the world including the London Olympics' Aquatic Centre, Hong Kong's first Zero Carbon building, the world's biggest shopping mall in Dubai, the National Museum of the Marine Corps in the US and the Channel Tunnel Rail Link.
Balfour Beatty's UK and Ireland regional construction business is a leading integrator of complex, sophisticated and innovative projects that improve the UK's and Ireland's national infrastructure and an experienced provider of local and regional projects that help build lasting communities.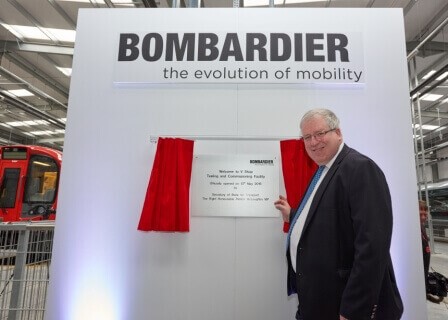 Image from the visit of the Secretary of State for Transport, Patrick McLoughlin MP, to the Bombardier Transportation plant in Derby.