Our people are at the heart of what we do. We simply couldn't shape communities, create skylines and deliver powerful new solutions without them. That's why it is so pivotal that we create an environment where all of our employees feel a sense of belonging – a sense of stability – a sense of achievement and pride.
I like to think that, over the last six years, we have created a positive culture and community, but we also recognise the importance of relentless improvement. We must always look to do more for our people, so we can continue to attract, train and retain the best talent in the industry. It's simple math.
So, we reach out to our workforce through our Employee Engagement Survey, to understand how they're feeling about their work at Balfour Beatty, if they do feel a sense of belonging, stability and pride and whether they feel they're creating something greater than they could on their own.
And this month, our people have spoken, with 76% of our employees across the UK and the US engaged in our Survey.
Testament to the improvements we have put in place since the introduction of Build to Last, 87% could clearly see evidence of zero harm – which means no injury, ill health or incident caused by our work activities – being applied across our business, 85% felt they could be themselves at work and, most importantly, a whopping 94% of our colleagues said that they truly felt cared for at Balfour Beatty.
As we look back over the past year, I think these results are truly reflective of the significant positive interventions we have delivered, including the launch of our values and behaviours as well as our charitable and volunteering approach in the UK, through which we've partnered with The Prince's Trust, Groundwork and Project RECCE to ensure that we give something back and make a difference, every day.
But we also went one step further and took the opportunity, during the COVID-19 pandemic, to reconsider our procedures. As a result, this year, we refreshed a number of our policies, including our maternity and paternity guidance, to ensure that parents and parents-to-be feel supported by our business, to take the time needed to best suit their families. In addition, we introduced Smart Working - our approach to when, where and how our employees work and empowering our colleagues, where roles allow, to work remotely for up to 40% of their time.  
At Balfour Beatty, our Smart Working approach is much more than a flexible working policy; it's about living our values, creating a supportive, inclusive culture and being considerate to meet all of our employees needs, at different times.
It's about having a good work- life balance, inspiring the next generation of talent and becoming a truly diverse and inclusive business. Because we know, who we are and how we work as a company, not just the incredible things we do, is crucial in keeping an engaged and happy workforce.
We've come a long way over the years, but with the latest results Employee Engagement Survey results now 'in', it's time for us to continue listening as we forge forward to build Balfour Beatty's future. A future in which we have each other's backs, a future where people can be themselves, a future where we build the infrastructure of tomorrow - smarter, greener and faster.  
A future, which is bright.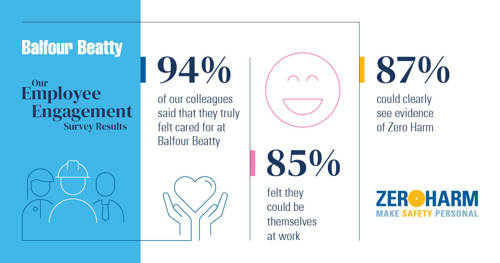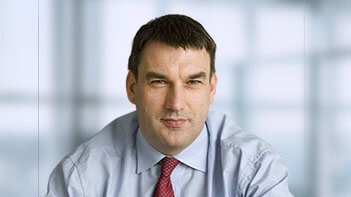 Paul Raby, Human Resources Director