A new Artificial Intelligence computer software, developed in partnership by Omnicom Balfour Beatty and The University of York, and supported by Innovate UK, is set to revolutionise the rail track inspection process and save the rail industry £10 million in track maintenance costs per year[1].  
After two and a half years in a Knowledge Transfer Partnership - a collaborative relationship where Omnicom Balfour Beatty and The University of York share academic understanding and practical, industry-led insights – a state-of-the-art, machine-learning technology has been developed to digitalise and advance the way in which railway line inspections are carried out.  
Attached to the front of the train, a camera moves along rail tracks in need of inspection. The technology utilises machine vision, which captures high definition images of the rail track to generate data which is then transferred through to a system which analyses the data to highlight inaccuracies and faults on the tracks.
In addition, the technology assists in identifying where faults may occur, allowing preventative fixes to be implemented as opposed to urgent repairs after an issue arises.
The automated technology, which is currently being progressed from proof of concept into a commercial grade software, is set to provide a quicker, more efficient and safer alternative to what is currently a manual track inspection process.
By automating the inspection process, the health and safety of workers will improve by minimising their exposure to live track environments as well as reducing time taken to complete a manual inspection.
Stephen Tait, Head of Operations for Omnicom Balfour Beatty and Project Lead, said: "We are developing digital technologies that are rapidly changing our industry; from 'predict and prevent' technology and advanced digital surveying techniques through to data science. All of our solutions are underpinned by a long legacy of design and construction expertise.
"Our collaboration with the University of York has been invaluable; this latest innovation is an excellent example of how Balfour Beatty continues to deliver our commitment to reduce our onsite work by 25% by 2025 as we progress against our commitment to develop technologies to evolve the digital railway for a more reliable, cost efficient and safe network for all users"
Professor Richard Wilson, lead researcher on the project from the Department of Computer Science at the University of York, said: "These machine vision technologies for high speed rail inspection will improve the reliability of the railway network, reduce costs and increase the safety of manual inspection. The computer vision and machine learning technologies provide automated inspection of complex assets such as junctions and crossings".
Ian Blakemore, Knowledge Transfer Adviser for the Knowledge Transfer Network which delivers the Knowledge Transfer Partnership Programme for Innovate UK, said: "This Knowledge Transfer Partnership has significantly improved the potential to automate rail inspection to an accuracy that will vastly improve the productivity of the whole checking process - something which is critical to the operation of the rail network. The partnership between Omnicom Balfour Beatty and the University of York flourished as a result of the discoveries and innovation that the close working delivered, adding real value to the business." 
Omnicom Balfour Beatty is committed to embedding practical solutions into projects with the help of technology and innovation. Working in partnership with those who understand the complexities of technology and combining expertise helps shape the industry and advance skills.
This partnership received financial support from the Knowledge Transfer Partnerships programme. Knowledge Transfer Partnerships aim to help businesses to improve their competitiveness and productivity through the better use of knowledge, technology and skills that reside within the UK knowledge base. This successful Knowledge Transfer Partnership project is funded by UK Research and Innovation through Innovate UK.
[1] Based on a 2% saving on Network Rail's track maintenance costs (2017-2018) https://cdn.networkrail.co.uk/wp-content/uploads/2019/06/Annual-expenditure-2017-18.pdf
ENDS
 Media enquiries to:
Megan Wood
Balfour Beatty
+44 (0)207 963 2150
megan.wood@balfourbeatty.com
www.balfourbeatty.com | follow us @balfourbeatty
All non-media related enquiries should be directed to +44 (0)20 7216 6800 or info@balfourbeatty.com
Notes to editors:
About Omnicom Balfour Beatty
Balfour Beatty (balfourbeatty.com) is a leading international infrastructure group. With 26,000 employees, we provide innovative and efficient infrastructure that underpins our daily lives, supports communities and enables economic growth. We finance, develop, build and maintain complex infrastructure such as transportation, power and utility systems, social and commercial buildings.
Our main geographies are the UK, US and Hong Kong. Over the last 100 years we have created iconic buildings and infrastructure all over the world including the London Olympics' Aquatic Centre, Hong Kong's first Zero Carbon building, the National Museum of the Marine Corps in the US and the Channel Tunnel Rail Link.
Omnicom Balfour Beatty provides a complete range of infrastructure monitoring solutions; these range from trackside, dedicated monitoring trains, RRVs, to the state of the art in service train solutions. Omnicom Balfour Beatty's software solutions complement our hardware products and are compatible with other third-party systems and provide infrastructure owners, maintainers and operators with information to help create informed decisions in real-time or for long terms strategic planning.
About innovation at Balfour Beatty
Balfour Beatty is already working on several key projects using technology, and like the industry rely on cutting-edge technology to design, build and maintain its portfolio of diverse projects. 'Digital' is integral to the business, allowing the company to innovate and implement improvements in efficiency, quality and safety.
Balfour Beatty has committed to reducing the amount of work being undertake onsite by 25% by 2025.
Balfour Beatty's in-house expert capabilities encompass a variety of digital services and are applied across the whole lifecycle of a project. Technology deployed includes augmented and virtual reality; Building Information Modelling (BIM); drones; 3D printing; cloud data storage; telematics and data analytics. Seamlessly integrated into the business, the use of technology enables Balfour Beatty employees to work more productively, more effectively and efficiently, as well as more safely.
About the University of York
A member of the prestigious Russell Group, we are a dynamic, research-intensive university.
We work collaboratively in partnership with institutions across the world to develop life-saving discoveries and new technologies that tackle some of the most pressing global challenges.
Our 30+ academic departments undertake ground-breaking research that underpins our inspiring teaching and challenges students to dream big, think critically and change the world.
To find out more, please visit; https://www.york.ac.uk/
About Knowledge Transfer Partnerships
Knowledge Transfer Partnerships are delivered for Innovate UK by the Knowledge Transfer Network (KTP).
Applications for funding are available throughout the year and KTPs can be applied to companies in all sectors of the UK.
Since the programme was introduced over 40 years ago, more than 12,000 companies have participated, and today more than 800 companies are involved in KTP.
To find out more, please visit ktn-uk.co.uk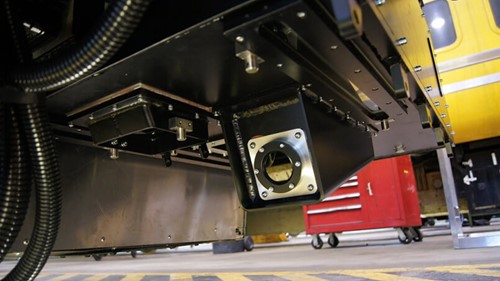 Image: The device used for rail track inspection, supported the by Artificial Intelligence computer software, developed in partnership by Omnicom Balfour Beatty and The University of York