This year's National Apprenticeship Week theme is "Build the Future" - a theme we can relate to in more ways than one.
Whilst we continue to construct and maintain the infrastructure at the backbone of economies, as well as projects at the heart of local communities, we are ever mindful of the talent we need to attract and retain to ensure the successful delivery of these critical schemes. Supporting young people - the future experts and leaders of this industry - is essential to growing and strengthening our business, our industry and ultimately our society.
Whenever I discuss the future of our industry, I always feel incredibly proud to talk about our long history supporting apprenticeships, stretching back more than 30 years, as well as our membership to The 5% Club, founded by our Group Chief Executive, Leo Quinn, which is a dynamic movement of employers committed to ensuring Britain's social mobility and shared prosperity by increasing the number of people in Earn and Learn positions. Even during a tough year like 2020, we stood firm on our support of young people by increasing the number of apprentices, graduates and trainees across our business by 30%.  This meant we ended 2020 with over 6% of our employees in Earn and Learn positions, up from 5.4% in 2019, and exceeding our 5% Club goal.
Our commitment to attracting, developing and retaining diverse talent is supported further by our new sustainability strategy. As part of the targets set out in this action plan, we aim to drive employment and training opportunities as well as increase social mobility. Despite the challenging times society continues to face, we are taking a clear and firm stance, that increasing apprenticeship opportunities is the right thing to do to secure the future of the industry.
Our apprentices work across all our business areas, focusing on the commercial, technical or business skill they want to develop to progress their career. Last week, for example, we launched the Operator Skills Hub, in partnership with Flannery Plant Hire, to support the training and development of the future plant operators of the UK. The purpose-built training facility, offering innovative, future-focused programmes and courses for those looking to get into the construction and infrastructure industry, will provide the first ever Trailblazer Plant Operative Apprenticeship in 2021, which will support 30 young people in the first year, to hone their technical plant operating skills.
All our apprentices get to experience cutting-edge technologies, some of the UK's most complex infrastructure projects and truly make their mark in the industry along with lots of development opportunities and with plenty of mentoring and support. With over 370 apprentices within the business, each with real responsibilities and a part to play in high-performing teams, our apprentices are building their own futures, as well as contributing to shaping the infrastructure which will last a lifetime.
But don't just take it from me, you can hear first-hand about what it's like to be an apprentice at Balfour Beatty from Sophie, Ella and Courage, as they share the details of their placements and explore how they've developed during their time with us so far.  
So, during National Apprenticeship Week 2021, let's celebrate our apprentices and their impact on our projects and the part they play in building the future. Or, if this excites you and you're considering an apprenticeship in the construction industry and making your own mark in the sector, visit our careers website for more. 
Jo Volk, Director of Talent and Development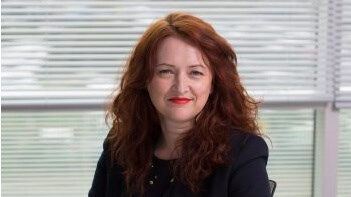 Jo Volk, Director of Talent and Development