Balfour Beatty Engineering Apprentice, Ella Northey, has featured in Highways Magazine, discussing her journey as an apprentice, which led to her securing Highway Magazine's 'Apprentice of the Year' award.
In the article, Ella explores how she came to start her apprenticeship at Balfour Beatty and talks about the skills and experience she has gained over the last three years.
On the subject, Ella said: "Completing an apprenticeship at Balfour Beatty, you receive real-time support and camaraderie; the work evolves from simply day to day project work to building relationships, a support network and wider people skills.
"I want others to feel the same as I do. I want to be an advocate for the benefits of completing an apprenticeship. It shouldn't be considered the inferior route. The amount of knowledge and experience you can gain while working on the job really is unrivalled."
Balfour Beatty has long been committed to supporting young people, recently publicly declaring its intention to increase the number of Apprentices, Graduates and Trainees for the second year in a row.
To learn more about Ella's experience, read the full article here.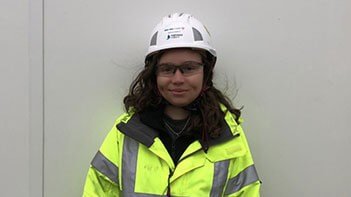 Ella Northey, Engineering Apprentice