At Balfour Beatty, we strive to treat Health like Safety. 
As we mark Mental Health Awareness Week in conjunction with Mental Health Foundation, it's never been more important to continue to break the stigma surrounding mental health in society in general, and in construction, in particular.
It's probably fair to say that just a decade ago mental health was very much treated as the poor cousin of physical health by our industry. Although we've made huge strides in giving mental health an equal billing with physical health and site safety, there is still more for us to achieve.
As a supporter and founding member of the charity of Mates in Mind, a programme delivered to the UK construction industry with the support of the Health in Construction Leadership Group, we have taken an active approach in supporting our colleagues working towards achieving a healthy and successful work-life balance.
We've recently launched our Health and Wellbeing Strategy, which shines a light on the great work happening throughout the organisation whilst also providing guidance improving Health and Wellbeing across our sites, including mental health.
As part of our strategy, we've trained almost 600 Mental Health First Aiders and have encouraged 87% of our managers to complete our 'Manage the Conversation' training module – equipping them with the tools and techniques to positively handle situations where somebody comes forward and wants to talk about their mental health.
But we don't stop there. This year, in support of Mental Health Awareness Week, we've run a 5-day-schedule of inspiring seminars, tea and talk sessions, meditation wind-downs, podcasts and more. Over the last few days, we've explored topics ranging from neurodiversity to work-life balance, sleep to loneliness, and have invited a mixture of employee and external speakers to share their experience and knowledge.
Mental Health Awareness Week provides a great opportunity to reflect and double down on our work to create an open, inclusive culture, to tell our employees of the services and support available, and to remind everyone that we are an organisation that wants every single person to feel supported and be their true self without fear of judgement.
One of the events I've particularly enjoyed so far this week was a virtual session which included a panel of guests from within Balfour Beatty, as well as external speakers. 269 people attended the session, in which we explored the importance of good mental health in the workplace and gave tips on improving wellbeing. I've also really enjoyed the online meditation sessions at the end of each day.
We learned about the lived experience of one of our colleagues David Landles, a Health & Safety Manager, who found himself at a very low point a few years ago. He explained how finally talking about what he was experiencing lifted so much of the heavy burden he'd been carrying for years.
David now works as one of Balfour Beatty's Mental Health First Aiders, who provide help on a first aid basis, signposting people towards specialist services and support.  
Speaking about his role as a mental health first aider David said: "I always use my own lived experience as part of my sessions, as we know within the peer support group world that this really works to help people open up. It builds trust in the person experiencing problems to tell their own story more easily."
One of the guest panellists at the same seminar was Andy Baines-Vosper, a Training Delivery Manager with the Samaritans and former Balfour Beatty employee. Andy spoke about the importance of people finding one thing that helps them to lift their mood and to reconnect when times are tough.
"Prior to joining the Samaritans, I worked for Balfour Beatty for 13 years. It was thanks to the support of their Employee Assistance Programme that I was able to get the right support when I was at my lowest, suffering with both depression and anxiety. To be invited back to take part in their Mental Health Matters seminar representing the Samaritans was a privilege. It's fantastic to see the hard work that's going on to support the mental wellbeing of their staff as they work to ensure that mental health continues to be part of the conversation'.
For many of us the unusual events of the past year, living through the COVID-19 pandemic, is likely to have brought new stresses and challenges to our work or personal lives. But there is help and support available. Simply talking about our thoughts, feelings and experiences, even with one other person, can provide great relief.
This year for Mental Health Awareness Week our message is simple: Let's keep talking about mental health.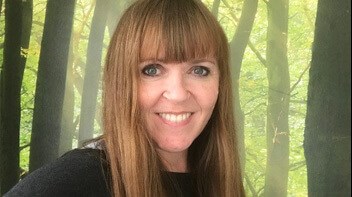 Geraldine Brammer, Head of Health