Balfour Beatty Group Chief Executive, Leo Quinn, commemorates the 10th anniversary of The 5% Club, with the launch of his Founder's Pledge, to further support and develop young people who are currently undertaking an Apprenticeship.
In October 2013, Leo founded The 5% Club to encourage businesses to tackle two linked problems: the UK's stubborn national skills shortage, and the resulting poverty trap for the unskilled. Fast forward 10 years, The 5% Club is now a registered charity, with over 800 members across all sectors which collectively employ over 1.6 million people in the UK, of which almost 95,000 are in "earn and learn" roles.
The Founder's Pledge will see Leo personally provide £10,000 in total to support ten apprentices across Balfour Beatty and its supply chain partners: one Apprentice who is currently working at the company, and nine from its supply chain partners.
In addition, Balfour Beatty's chosen Apprentice will be personally mentored by Leo Quinn, with Balfour Beatty's Group Chief Executive asking the business leaders of the chosen supply chain partners to also mentor their nominated Apprentice for one year. 
With nearly half of Apprentices in the UK failing to complete their training due to lack of wellbeing and financial support, the Founder's Pledge looks to address this and provide the support young people need to successfully complete their training and embark on a long term and fulfilling career.
Leo Quinn, Balfour Beatty Group Chief Executive and Founder of The 5% Club, said: "Supporting our Apprentices – our future leaders – is critical, particularly in the challenging economic climate when many young people face an uncertain future.  
"It has therefore never been more important for business leaders across the UK to step up, take charge and continue developing our talent. I hope that today's Pledge will make each of us stop and think about how we can give something back, and secure the skills and capability required across every sector."
In addition, Leo is asking the member CEO's of The 5% Club to make their own pledge, urging them to offer their mentoring skills to Apprentices to offer the support they can.
ENDS
Media enquiries to:
Antonia Walton
Balfour Beatty
+44 (0)203 810 2345
Antonia.walton@balfourbeatty.com
www.balfourbeatty.com | follow us @balfourbeatty
All non-media related enquiries should be directed to +44 (0)20 7216 6800 or info@balfourbeatty.com
Notes to editors:
Balfour Beatty

 is a leading international infrastructure group with 25,000 employees driving the delivery of powerful new solutions, shaping thinking, creating skylines and inspiring a new generation of talent to be the change-makers of tomorrow.

We finance, develop, build, maintain and operate the increasingly complex and critical infrastructure that supports national economies and deliver projects at the heart of local communities.
Over the last 114 years we have created iconic buildings and infrastructure all over the world. Currently, we are working to deliver Hinkley Point C, the first UK nuclear power station in a generation; constructing the world-class arts and cultural facility, the Lyric Theatre, in Hong Kong; and designing, building, financing, operating and maintaining the Automated People Mover superstructure at the fifth busiest airport in the world, Los Angeles International Airport.
The 5% Club:
The 5% Club is a dynamic movement of employers committed to earn & learn as part of building and developing the workforce they need as part of a socially mobile, prosperous and cohesive nation. The Club exists to help its members and all employers increase further the number, quality and range of earn & learn opportunities across the UK.
By joining The 5% Club, members aspire to reach 5% of their workforce in 'earn and learn' positions, including apprenticeships, sponsored student schemes and graduate training, within five years of joining.
The 5% Club is a charity and is free for businesses of all sizes and sectors to join. Find out more at https://www.5percentclub.org.uk/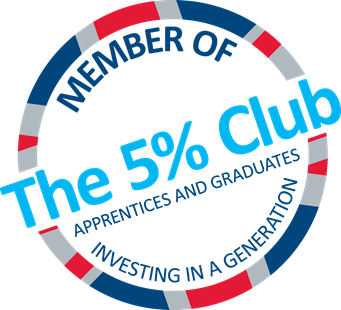 Image: The 5% Club membership logo