Balfour Beatty has partnered with the Supply Chain Sustainability School for the second year in a row, undertaking a joint survey targeting hundreds of supply chain partners across the UK to understand the barriers and opportunities faced in decarbonising the sector.  
Recognising the important role that the construction and infrastructure sector has to play in achieving Net Zero, the company has set out its findings and recommendations for policy makers, customers, and the industry more widely in its latest thought paper - "2022 Greening the Supply Chain".
Despite the positive steps that have already been taken across the industry, achieving Net Zero is not a foregone conclusion with 68% of respondents saying that the sector is not well enough prepared, 53% saying that the development pipeline for low-carbon materials is not sufficient to meet demand and 81% indicating that construction practices are changing too slowly.
In addition, 96% of those who responded said that they are experiencing a shortfall in access to skilled people, specifically relating to carbon, sustainability, digital and other related roles, which risks holding back efforts to decarbonise the sector.
In "2022 Greening the Supply Chain", Balfour Beatty highlights the importance of bringing in supply chain partners earlier to put in place the best, low carbon solutions. An area that also requires more focus is the creation of robust measurement and up-to-date reporting standards – these are key for consistency and driving forward progress.
Balfour Beatty will now take the learnings from the survey to understand what more can be done to support the industry in tackling the barriers it currently faces, bringing its supply chain on the journey and encouraging other industry partners to do the same.
Jo Gilroy, Group Director of Sustainability at Balfour Beatty, said: "The global climate change emergency is one of the biggest challenges that we have ever faced. It is a challenge requiring us to all pull in the same direction, together.
"With approximately 80% of the sector's carbon emissions stemming from our supply chain, it is becoming increasingly important to understand the barriers our partners face and where they need more support. By sharing our findings and learnings, we hope that the sector will move forward more quickly – together - in achieving Net Zero."
Shaun McCarthy OBE, Chair of Supply Chain Sustainability School said: "These reports offer a major insight into what the built environment requires to meet our net zero targets by 2045/50 and it is great to see that the sector is invested in the challenge! But there is still a long way to go. We must urgently address the skills shortage, as well as the speed in which construction practices are changing to utilise low-carbon technology and methods. Innovation, communication, and collaboration are key!"
To read "2022 Greening the Supply Chain" in full, please click here.
ENDS
Media enquiries to:
Vivienne Dunn
Balfour Beatty
+44 (0)203 810 2345
vivienne.dunn@balfourbeatty.com
www.balfourbeatty.com | follow us @balfourbeatty
All non-media related enquiries should be directed to +44 (0)20 7216 6800 or info@balfourbeatty.com
Notes to editors:
Balfour Beatty

 is a leading international infrastructure group with 24,500 employees driving the delivery of powerful new solutions, shaping thinking, creating skylines and inspiring a new generation of talent to be the change-makers of tomorrow.  

We finance, develop, build, maintain and operate the increasingly complex and critical infrastructure that supports national economies and deliver projects at the heart of local communities. 
Over the last 113 years we have created iconic buildings and infrastructure all over the world including: the £1.5 billion A14 improvement scheme - Britain's biggest road project; Hong Kong's HK$5.5 billion world-class harbour theatre project for the West Kowloon Cultural District Authority; and the 12.5 mile $429 million North Metro Commuter Rail line in Colorado, US.
In December 2020, Balfour Beatty launched its refreshed sustainability strategy, "Building New Futures", which sets out our ambitions to achieve net zero emissions, generate zero waste and positively impact over one million people by 2040. The strategy focusses on three specific areas – the Environment, Materials and Communities – with each area assigned a 2040 ambition. To guide us in our journey to achieve these ambitions, Balfour Beatty will be reporting annually on each area, with defined 2030 targets to ensure the Group is on track to achieve its 2040 ambitions.
About The Supply Chain Sustainability School:
The Supply Chain Sustainability School is a multi-award-winning initiative which represents a common approach to addressing sustainability within supply chains. Co-funded by over 180 collaborating companies (Partners), the School is delivered by an independent third-party consultancy, Action Sustainability.
Leadership is provided by a School Board comprising elected representatives of Partners, responsible for fiscal governance and strategic direction. A Code of Ethics is signed by all Partners as part of the School Constitution and Partners lead the direction of the School content and activities through leadership groups. With more than 50,000 registered users, the School provides free practical learning and support in the form of sustainability training, events and networking, e-learning modules, tailored assessment and a library of over 3,000 online resources. https://www.supplychainschool.co.uk/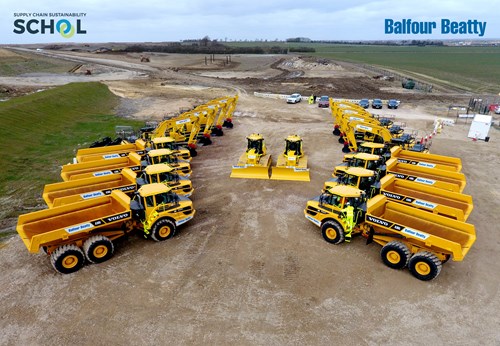 Image: Balfour Beatty partners with the Supply Chain Sustainability School to undertake joint survey