Gammon Construction, a 50:50 joint venture between Balfour Beatty and Jardine Matheson, recently completed construction of the Midfield Concourse for the Airport Authority Hong Kong. The concourse, at the Hong Kong International Airport, opened at the end of December 2015.
The Midfield Project began in 2011 and involved the construction of a five-level concourse,  700 metres long, 20 aircraft stands, a cross-field taxiway, extension of the APM tunnel from Terminal 1 to the Concourse, a new taxiway and extension of the South Runway Road.
The Midfield Project showcases Gammon's one-stop construction strategy , which brings all of its capabilities together in one comprehensive package of skills and services including engineering design, building & construction, foundation, E&M, steel fabrication and concrete.
Gammon Construction was awarded Gold in the Hong Kong Awards for Environmental Excellence (HKAEE) for the Midfield Project for its environmental consideration including the use of Business Information Modelling (BIM) technology to provide a 'virtual-before built' image to enhance efficiency and reduce waste.
The new facility gives the airport capacity to serve an additional 10 million passengers every year, eventually serving circa 20% of the airport's daily passenger flights.
Thomas Ho, Chief Executive of Gammon Construction commented: "With the full support from our Client, we are pleased to have completed the project on schedule and delivered further extensions to Hong Kong's world class airport infrastructure."
ENDS
Media enquiries to:
Antonia Edwards
Balfour Beatty
t:   +44 (0)207 963 2150
m:+44 (0)7813 363 166       
e:  Antonia.Edwards@bbworksmart.com
www.balfourbeatty.com | follow us @balfourbeatty
Notes to editors:
Gammon Construction (www.gammonconstruction.com), headquartered in Hong Kong, is a 50/50 joint venture between Balfour Beatty and Jardine Matheson which has a reputation for delivering high quality projects and solutions for customers throughout China and Southeast Asia. With an annual turnover of US$2.5 billion, and employing over 8,000 staff, among other projects the company is currently delivering HK$3.91 billion contracts for Public Rental Housing Development of Tuen Mun and Hong Kong Science Park, the £87 million (S$174 million) contract for the design and construction of the Mayflower Station on The Thomson Line for the Land Transport Authority and a £61 million (S$122 million) contract for track system replacement on the North-South Line for SMRT Trains.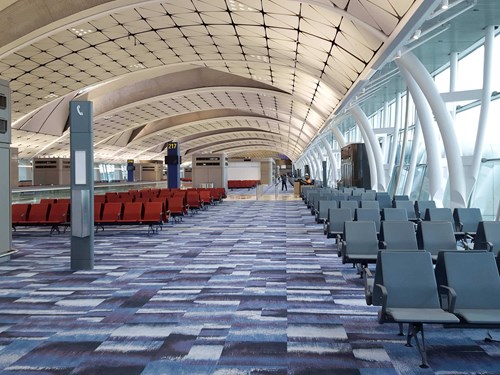 Image: The Midfield Concourse