Director of Data and Digital Technology, James Veitch, has featured in Construction News, discussing Balfour Beatty's strategy for moving towards a digital future.
In the article, James explains how Balfour Beatty's 'bottom-up' approach to its digital transformation is reaping rewards when it comes to maximising employees' time, driving efficiencies and supporting the company in paying its supply chain faster.
Balfour Beatty is investing heavily in digital technology through the introduction of innovative solutions such as MSite – a mobile phone application to improve the health and safety of employees across the UK, as well as electronic goods-received notes, removing the need for paper audit trails
James also outlines the importance of taking both Balfour Beatty's customers and supply chain partners on its digital journey. On the subject, he said: "We're disproportionality investing in it from our side and we're giving our learnings to our partners because we've got to take them with us.
"80 per cent of our work on site is arguably driven by our supply chain, so in many ways I cannot digitise my process without bringing my supply chain with me. I don't always control who my supply chain bring on site, but I need to take responsibility for the quality of their output, the safety of their work and the safety associated [with it]."
Why not read more about Balfour Beatty's digital transformation in the article here?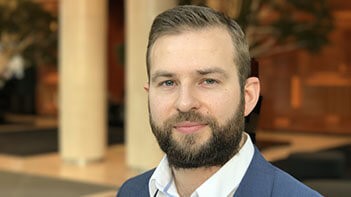 James Veitch, Director of Data and Digital Technology