In the rapidly changing world in which we live, making a positive contribution to communities requires all of us to pull in the same direction. We must be bold and ensure that we as businesses help, rather than hinder, the big societal challenges we all face.
Without question, climate change is chief amongst those challenges. That is why Balfour Beatty has set out its ambition to go beyond net zero carbon by 2040.
Targeting Net Zero Carbon is a significant goal in itself – how will this be achieved and then exceeded?
It's no secret that the construction and infrastructure industry has a significant environmental footprint. In 2018, our industry accounted for the largest share of global final energy use, at 36%, and energy-related CO2 emissions, at an astounding 39%. These are striking figures and, I believe, help to firmly lay out the case as to why we must do more in our battle against carbon emissions.
At Balfour Beatty, we recognise that we can play a part in mitigating these emissions. Much like our approach to achieving zero waste generation, our approach to going beyond net zero carbon is based on two things: collaboration and partnerships across the industry, and the use of well-known management hierarchies; in this instance, the Institute of Environmental Management and Assessment's Greenhouse Gas Management Hierarchy.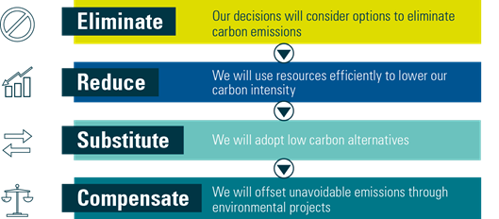 We've been driving carbon reductions since 2010 and have already seen great improvements in the reduction of our Scope 1 and 2 carbon emissions, reducing them by an impressive 51%.

While our immediate focus is on avoiding and reducing the greenhouse gas emissions that have the greatest impact on our operations, we will need to work in collaboration with our supply chain partners, designers and customers to achieve our 2040 Ambition of Beyond Net Zero Carbon.
We can work with our supply chain partners to capture and reduce embodied carbon in materials they supply to us. We can develop new solutions and technologies to drive net zero outcomes for our customers by collaborating with them. We can work with our suppliers to switch to renewable energy where we haven't already. We can take steps to decarbonise our plant and fleet by switching from diesel to electric, hybrid or hydrogen powered solutions.
What's really quite exciting about Balfour Beatty's approach to Net Zero Carbon, is all of these solutions are already being adopted across the company in some shape or other. Our Sustainability strategy simply helps us to go further, ramping up our efforts even more.
You mentioned that Balfour Beatty has already cut its Scope 1 and 2 carbon emissions by 51% since 2010. Besides the actions you have just outlined, what else can be done?
Across the company, we have a huge number of experts working on innovative and exciting sustainability solutions, day in day out.
Pulling on just one example from the UK most recently, we've partnered with Sunbelt and Invisible Systems to develop a system we call EcoNet.
EcoNet manages the power supply to our site compounds by automatically turning appliances and equipment off when not in use, which in turn helps to regulate consumption when demand is at its highest, reducing the drain on the national grid and reliance on diesel generators which are so often used to power construction sites.
This partnership and innovative thinking mean that those sites where EcoNet is applied – currently 21 Balfour Beatty sites so far – are seeing huge reductions in their carbon emissions. If I look at our East Leeds Orbital Route project – a large scale highways contract to build 7km of outer ring rounds around Leeds city centre – they realised an incredible 83% reduction in carbon emissions in the first six months of use, by optimising the heating, hot water and external lighting running schedules.
Put simply, EcoNet is the result of collaboration. It's why we're committed to working hand in glove with our supply chain partners to capture and reduce embodied carbon in the materials they supply us with and helping them to identify carbon hotspots in their operations – because collaborating relentlessly is the key to unlocking great sustainability solutions.

We truly believe that together, we can shift the dial, not just at Balfour Beatty but across our whole supply chain.
Net Zero Carbon by 2040 still seems like such a big ambition. Can individuals really make a difference?
In short, absolutely. A company's carbon emissions can be reduced through the smallest of habits by even one individual. Everyone has a part to play in achieving our ambitions.
What our people do in their daily lives, and the effect this can have on mitigating climate change, should not be underestimated – whether that's switching off the engine of a piece of plant or your car, using energy saving modes or choosing to hold a meeting virtually.
Everyone has a role to play from how we engage with customers, tender for work, specify materials, run tenders for suppliers, procure goods, evaluate suppliers – all these can make a significant difference to our carbon footprint and to whole-life carbon of the assets we build.
It's also up to us as a company to help our people make smart decisions. Which is why we're constantly developing new sustainable solutions that harness complex data and empower our people to make intelligent and sustainable choices.
We're also working to eliminate all waste generated from our construction activities by 2040. This means we'll prevent unnecessary waste being created as well as increasing the use of sustainable products and materials. Emma Harvey, Group Sustainability Manager for Gammon Construction, Balfour Beatty's 50:50 joint venture in Hong Kong, shares more about this here.
Bekir Andrews, Group Head of Sustainability and Reporting in the UK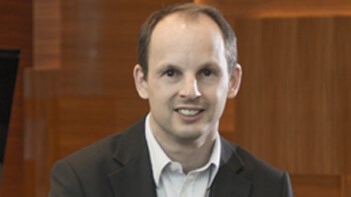 Bekir Andrews, Group Head of Sustainability and Reporting in the UK