Balfour Beatty's UK Procurement & Supply Chain Director, Evan Sutherland, has featured in BIM+, discussing how the company is removing wasted time and money from supply chain procurement processes through the use of digital tools such as DocuSign and the Jaggaer eProcurement Portal.  
In the article, Evan explores how accelerating initiatives and digitising manual processes to improve the way Balfour Beatty works with its supply chain has been a significant means of improving efficiency at all stages of supply chain on-boarding, as well as improving engagement with supply chain partners.
On the subject, Evan said: "Our digital capabilities, coupled with our lean approach to procurement, has brought benefits for both ourselves and our supply chain. We recognise the important role our supply chain plays in our business and we endeavour to be the construction partner of choice, delivering on our promises and continuously improving for the best combined approach for our customers."
To learn more about how Balfour Beatty are leveraging digital tools to drive efficiencies and developing more collaborative relationships with its supply chain, read the full article here.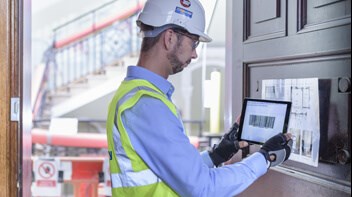 Evan Sutherland, Balfour Beatty's UK Procurement & Supply Chain Director