One million people is a lot of lives to positively impact – how do you expect to reach that many people?
It could be easy to think that the benefits to a construction project or a piece of infrastructure is limited. When in fact, a CBI and Oxford Economics report entitled "Fine Margins: delivering financial sustainability in UK Construction" shows that for every £1 invested in the construction and infrastructure industry, £2.92 of value to the UK economy is generated.
When we talk about positively impacting the lives of over one million people, we don't just mean our employees, and we don't just mean our supply chain partners – although of course they are included. We're also talking about the people that live in the communities in which we build and work, including small business owners - from local restaurants to hardware stores
At Balfour Beatty, we recognise the wide-reaching impact that our work has on communities in the geographies in which we operate. That's why we take a much broader view on leaving a positive legacy; be it through volunteering, supporting businesses local to our sites, upskilling, educating and training our people, mentoring small contractors, taking a positive and proactive approach to subcontractor and supplier outreach and solicitation, ensuring mental and physical wellbeing and by creating a truly diverse and inclusive workplace.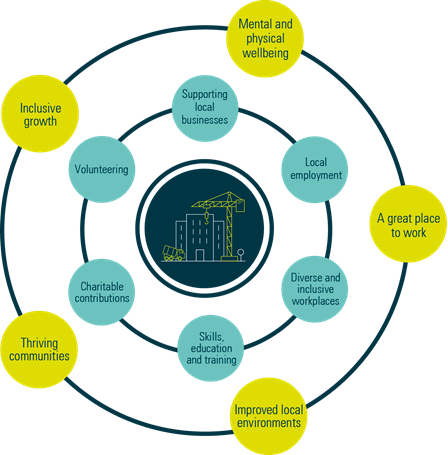 Unfortunately, ours is an industry facing a skilled labour shortage but, fortunately, our industry also creates the opportunity to address this through creating awareness for our young people about the opportunities available in construction and infrastructure.
One way we're already doing this is through volunteering and spending dedicated time at schools, giving presentations about careers in the industry and providing students with tours of sites.
Our work also boosts local economies through employment and training, by generating work for our supply chain partners and a chance to support good causes through volunteering and charity initiatives.
If we take this into account, you can see how we can achieve our 2040 ambition to positively impact over one million lives.
You mention the importance of attracting people to the industry – how do you ensure that your workplace is truly diverse and inclusive?
Diversity and inclusion is absolutely a priority for Balfour Beatty and it's driven from the top. Leo Quinn, our Group Chief Executive, is the sponsor for Equality, Diversity and Inclusion and truly believes that a diverse and inclusive workplace will make us a better business.
And while we've made positive strides over the years, we recognise that we need a real paradigm shift in the industry more widely, if we're to drive real and effective change.
That's why we've taken some real and demonstrable action to ensure this happens at Balfour Beatty.
In our UK business for example, we were the first construction and infrastructure company to sign the Audeliss and Involve Open letter, committing to engaging and measuring long-term actions for black inclusion in our business. Our commitment is meaningful and sustainable, which is something that is key if we're to ensure momentum and a true cultural shift throughout the company.
Positively impacting over one million people sounds difficult to measure. How will you go about this?
The saying "what gets measured, gets done" is apt for our Sustainability strategy. That's why we'll be reporting annually on our progress as we look to positively impact more than one million people by 2040.
If I look at our commitment to young people in the UK – those undertaking Apprenticeships, on a graduate scheme or as trainees – we're a member of The 5% Club, where companies commit to having 5% of their workforce in 'earn and learn' positions.
Founded by our Group Chief Executive Leo in 2013, we've reported on our intake of Apprentices, Graduates and Trainees each year and most recently made a public declaration to increase our ongoing commitment to this group of employees. With a circa 30% increase in our 2020 intake when compared to our 2019 intake, we've created 108 graduate placements, 160 apprenticeships and 29 trainee placements this year alone – representing 5.7% of our workforce.
When it comes to measurement of how we're making a positive impact on people, we will build on our existing social value measures to capture the broader positive and lasting impact we have on people's lives – considering job creation, training and skills programmes and activities, how we positively impact local communities through our choice of suppliers, charitable donations and volunteering activities.
We'll be looking more holistically at the wider impact of the volunteering our workforce undertake, and the number of people positively impacted – rather than simply counting the number of days we spend volunteering, for example!
We already know that since 2013, in the UK alone, we've spent more than £10 billion with SME's. And it is through our social value measurements that will know we're on track to achieve our 2040 ambition too.
Hans Hansen, Project Executive and Community Engagement Specialist in the US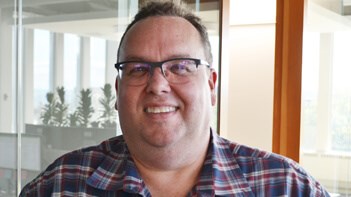 Hans Hansen, Project Executive and Community Engagement Specialist in the US