BBMV, the Balfour Beatty, Morgan Sindall, VINCI Construction joint venture, which is delivering the Crossrail Whitechapel Main Station Works contract (C512) has handed over Whitechapel's temporary ticket hall station to London Underground. The temporary station opened to the public this week. The interim station re-routes passengers out of the station to ensure future engineering works take place in a safe environment with minimal disruption to the existing Underground and Overground services. It was officially handed over to London Underground for staff training in early December last year. This significant project milestone means that all the technical systems can now be migrated from the current main station building while it is upgraded, to make way for the new Crossrail concourse.
BBMV began work on Whitechapel Station in December 2011 and is due to complete works in 2018.
BBMV's works are divided into three primary work sites which are located in the Whitechapel area, East London and include the refurbishment of the existing Whitechapel Station, the construction of a new station bridge concourse above the East London Line cutting and a new ticket hall. Works also involve the construction of new shafts and platforms for the Crossrail tunnels, related architecture and mechanical and electrical infrastructure. 
While works were underway to build the temporary station, the BBMV team reached an important project milestone in October 2015, logging one million hours without a RIDDOR injury - demonstrating their commitment to working safely and achieving Zero Harm in the workplace and on site.
Reaching this safety target required great effort by the team who carried out complex civil engineering activities in a live operational rail environment.
Nigel Russell, Project Director said:
"The BBMV project team has worked extremely hard, with the weekend's possession works proving particularly challenging, as the station closure included through running trains on the London Overground and London Underground lines. The team successfully managed the risks involved, with careful planning and cooperation between project disciplines, by ensuring that safe systems of work were in place and by implementing and following all railway procedures."
ENDS
Media enquiries to:
Am Golhar
BBMV
t:  +44 (0)207 216 6897
m:+44 (0)75 8306 9445             
www.bbmv.co.uk

NOTES TO EDITORS:
BBMV is a joint venture between four of the world's leading construction companies: Balfour Beatty, BeMo Tunnelling, Morgan Sindall, and VINCI Construction (represented by Taylor Woodrow and VINCI Construction Grands Projets), formed for the delivery of Crossrail. BBMV is currently undertaking the construction of the C510 Whitechapel and Liverpool Street Station Tunnels contract (together with Bemo) and the C512 Whitechapel station construction and fit out. The partners of the joint venture have worked together before on some of the UK's highest profile projects, including the Channel Tunnel Rail Link (CTRL) and the Heathrow Terminal 5 tunnels. Strength is brought to the partnership through BBMV's specialist in-house businesses, including Bachy Soletanche and Balfour Beatty Ground Engineering.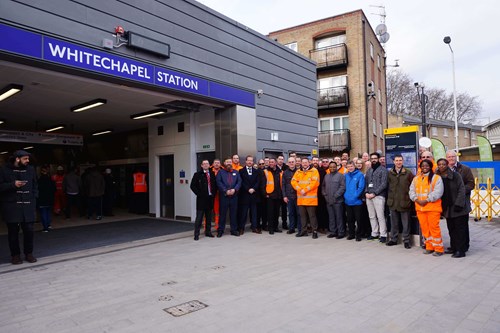 Image: The BBMV team outside of Whitechapel Station's temporary ticket hal