Alex Gentleman, Civil Engineer and Balfour Beatty Thames Barrier Project Manager, is featured in the Financial Times' 'Special Report' which explores the threat of flooding and how it is being tackled across the globe.

The Thames Barrier, which is located in London and stretches 520m across the river Thames, is an iconic steel structure protecting 40,000 homes and businesses within the Capital at risk of tidal flooding.

The structure requires ongoing maintenance and upgrades as a result of the ebb and flow of the tides and the buffeting of the waves, which are being delivered by Balfour Beatty through the Environment Agency's TEAM 2100 10-year plan. The works are delivered through traditional construction techniques coupled with more innovative solutions such as drone inspections and 3D modelling.

Here you can read Alex's interview and  find out more about the hidden depths of flood prevention.

ENDS

Media enquiries to:
Cassie Farrar
Balfour Beatty
t:  +44 (0) 207 963 2150
e: cassie.farrar@balfourbeatty.com

For all non-media related enquiries please contact +44 (0)20 7216 6800 or info@balfourbeatty.com

Notes to editors:
• Balfour Beatty (www.balfourbeatty.com) is a leading international infrastructure group. With 30,000 employees, we provide innovative and efficient infrastructure that underpins our daily lives, supports communities and enables economic growth. We finance, develop, build and maintain complex infrastructure such as transportation, power and utility systems, social and commercial buildings.
• Our main geographies are the UK, US and South East Asia. Over the last 100 years we have created iconic buildings and infrastructure all over the world including the London Olympics' Aquatic Centre, Hong Kong's first Zero Carbon building, the National Museum of the Marine Corps in the US and the Channel Tunnel Rail Link.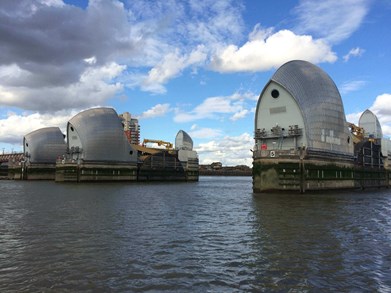 Image: Thames Barrier