BPH Equipment has celebrated its 40th anniversary this week.
At the forefront of the specialist hire industry, BPH Equipment offers the most modern specialist equipment available in the UK, maintained to the highest standards.
Visible on many major UK construction sites, BPH cranes and piling hammers have been visible to the UK skyline since the early 1970s.
Celebrations were marked by all 40 employees, including one recently qualified apprentice, with a ceremonial photograph and cake cutting.
The business has developed since its inception in the 1970s, where it focussed on public works projects for local and regional authorities. Since then, it has continued to develop, growing and extending its operations to include water and waste treatment systems and process engineering in the 1980s, when it became a public limited company on the London Stock Exchange in 1989.
BPH Equipment continued to invest, maintaining a strong fleet of crawler cranes and piling equipment for hire to the heavy civils market and, particularly, marine piling.
From 2000 onwards, BPH continued to operate in this highly specialist, niche market, building on its reputation as the only UK hire company with the capability to provide the complete package of crawler crane and piling equipment to the largest and most complex marine piling projects in the UK.
Acquired by Balfour Beatty in 2006, BPH is now part of the Balfour Beatty Plant and Fleet Services strategic business unit. Here it continued its success at the forefront of the specialist hire industry.
Today, BPH is preparing for a strong 2016, building on recent momentum of investment in strategic safety critical assets. This strategy is bolstered by nearly £3 million of investment in 2015, with 2016 planned to see the continued investment in new and innovative telescopic cranes and strategic piling equipment.
Andy Ormerod, Managing Director of Balfour Beatty Plant and Fleet Services, commented on the celebrations, "The 40th anniversary of BPH Equipment is a milestone worthy of celebration. With a compelling history, seeing the company go from strength to strength, I look forward to the next 40 years of success for BPH".
ENDS
Media enquiries to:
Antonia Walton
Balfour Beatty
T: +44 (0) 207 9632267
E: Antonia.walton@balfourbeatty.com
www.balfourbeatty.com | follow us @balfourbeatty
Notes to editors:
BPH Equipment was acquired by Balfour Beatty in 2006 and is part of the Balfour Beatty Plant and Fleet Services strategic business unit.
BPH Equipment offers modern state of the art crawler cranes ranging from 50t to 250t capacity available for hire/rental on both long and short term contracts. Cranes can be rented on an individual basis or as a part of a complete package with the vibratory or impact hammers from BPH Equipment's extensive range.
They are the sole agents for sales and rental of the PTC complete range of vibratory piling hammers which include the world's largest vibrator, the PTC265HD.
BPH Equipment operates the largest fleet of PTC equipment in the UK.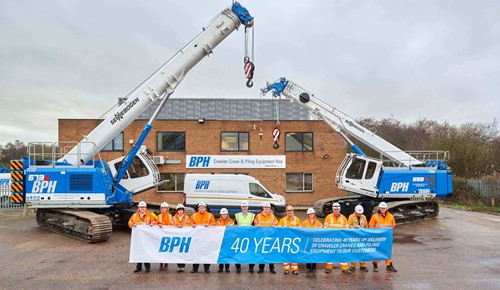 Photograph: The BPH Equipment team celebrates 40 years