Over 130 businesses attended Balfour Beatty's 'Meet the Supplier' day held near Winchester, Hampshire. The event was held to discuss the opportunities available within the South of England for Balfour Beatty Living Places, Regional Civils and Construction, and the possibilities this presents to the local supply chain.
Businesses from across the region attended the event, taking the time to talk to Balfour Beatty about procurement, learn about the Supply Chain Sustainability School, The Talent Challenge and the various regional projects in the pipeline. Attendees also discussed the importance of Health and Safety in the workplace, embracing sustainability across all methods of work, and the added social value Balfour Beatty delivers for the local communities in which it operates.
Simon Watson, Business Development Director for Balfour Beatty Living Places, said of the event, "At Balfour Beatty we believe strongly in supporting locally; whether that be through working with a local supply chain, leading community engagement projects, or providing local apprenticeships. Today was a brilliant opportunity to liaise with local businesses and business leaders to help them up-skill and raise the awareness of the opportunities to work with us in the South. We are delighted at the level of interest the event has received".
Glynis Dewhirst, Marketing and Communications Manager from RW Civil Engineering, commented on the event, "Balfour Beatty's 'Meet the Supplier' event provided a fascinating insight into the "new and improved" Balfour Beatty. It was great to see how all the elements of the business fit together and what the organisational goals are. I found the presentations on sustainability issues particularly interesting and thought provoking. All the speakers were extremely good and the day provided a really useful networking opportunity. All-in-all a really useful event – I look forward to the next one".
ENDS
Media enquiries to:
Antonia Walton
Balfour Beatty
t: +44 (0)207 963 2267
m: +44 (0)7966 929 633
e: Antonia.walton@balfourbeatty.com
www.balfourbeatty.com | follow us @balfourbeatty
Notes to editors:
Balfour Beatty (www.balfourbeatty.com) is a leading international infrastructure group. With 36,000 employees, we provide innovative and efficient infrastructure that underpins our daily lives, supports communities and enables economic growth. We finance, develop, build and maintain complex infrastructure such as transportation, power and utility systems, social and commercial buildings.
Our main geographies are the UK, US, Middle East and South East Asia. Over the last 100 years we have created iconic buildings and infrastructure all over the world including the London Olympics' Aquatic Centre, Hong Kong's first Zero Carbon building, the world's biggest shopping mall in Dubai, the National Museum of the Marine Corps in the US and the Channel Tunnel Rail Link.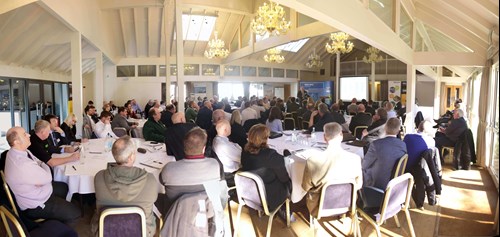 Photograph: Attendees at Balfour Beatty supplier day listening to presentations