Run in collaboration with National Highways, a Arcadis Jacobs joint venture and BAM Construction Training, the training programme was spread over six weeks and focused on safety, scheduling, costing, quality and construction methods with a further ten days dedicated to the the bridge build.
The unique opportunity provided by the 18-metre model footbridge enables new entrants to the industry to learn and hone valuable real-world skills, strengthen their knowledge, and aid their careers in construction.
Speaking on the experience, Glenn Boyd, Balfour Beatty VINCI project manager, said: "I'd like to thank the monumental efforts of our joint venture partners that have gone into making this project one of a kind. We hope that this is just the start for our training bridge programme and that in two to three years down the line a lasting legacy will have been left for the construction industry's budding young apprentices."
The collaborative training programme further demonstrates Balfour Beatty's commitment to going above and beyond for its people – including the many apprentices, graduates and trainees the company employs each year, having committed to increasing its intake by circa 60% last year.
To learn more about the unique training programme, read the full article here.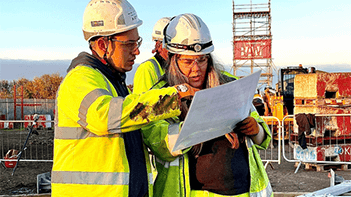 Balfour Beatty VINCI's unique, collaborative training programme