Balfour Beatty, the international infrastructure group, today announces it has been awarded a £104 million road scheme by Norfolk County Council to complete works on the Norwich Northern Distributor Road (NNDR).
The new road will serve Broadland, Norfolk, and improve access to North Norfolk and Norwich International Airport, with better links to Great Yarmouth and the south of the region. It will also bring relief on congested and unsuitable roads around the north and east of Norwich and improve capacity for future growth in jobs and housing.
Balfour Beatty will construct the new 19.6km dual carriageway, including nine new roundabouts, seven new bridges, an underpass and a more complex two level junction. The new dual carriageway will run from the A1067 Fakenham Road, crossing the A140 at Norwich International Airport and joining the A47 at Postwick, at the eastern end of Norwich Southern Bypass.

Balfour Beatty was awarded the Early Contractor Involvement (ECI) phase of the NNDR scheme in 2009 and has since then been assisting Norfolk County Council with design development, construction feasibility advice and development of the scheme's target cost. Balfour Beatty is already working on Norfolk County Council's £27million Postwick junction project which will join the NNDR with the A47 trunk road.

Construction work will commence this winter and is scheduled for completion in late 2017. A workforce of over 500 will be employed on the project at construction peak.

Leo Quinn, Balfour Beatty Group Chief Executive, said: "This project draws on Balfour Beatty's expertise in successfully partnering with local authorities to deliver large, complex infrastructure projects. We have extensive proven experience of major road schemes, from the ECI phase through to concept and construction programme development and a strong relationship with Norfolk County Council having collaborated on this project over the last six and a half years.

"The NNDR will significantly improve the Norwich and Norfolk road network, providing real benefits to local communities, businesses and the travelling public as well as supporting regional economic growth."
ENDS
Analyst/investor enquiries:
Peter Young
Tel. +44 (0)20 7216 6824
peter.h.young@balfourbeatty.com
Media enquiries:
Louise McCulloch
Tel. +44 (0)20 7216 6846
louise.mcculloch@balfourbeatty.com
Notes to editors:
Balfour Beatty (www.balfourbeatty.com) is a leading international infrastructure group. With 36,000 employees, we provide innovative and efficient infrastructure that underpins our daily lives, supports communities and enables economic growth. We finance, develop, build and maintain complex infrastructure such as transportation, power and utility systems, social and commercial buildings.

Our main geographies are the UK, US, Middle East and South East Asia. Over the last 100 years we have created iconic buildings and infrastructure all over the world including the London Olympics' Aquatic Centre, Hong Kong's first Zero Carbon building, the world's biggest shopping mall in Dubai, the National Museum of the Marine Corps in the US and the Channel Tunnel Rail Link.
Balfour Beatty is a leading road designer, constructor, asset manager and maintenance provider in the UK. Projects carried out include traditional work through to the more complex design-build-finance-operate (DBFO), smart motorway and early contractor involvement (ECI) schemes.
Balfour Beatty's current portfolio of major road schemes includes the £292m A14 Cambridge to Huntingdon improvement scheme, the £745m Aberdeen Western Peripheral Route and Balmedie/Tipperty project, the £129m M3 J2 to J4a Smart Motorway scheme, the £55m M25 Junction 30 Upgrade Scheme, the £44m A1 Lobley Hill scheme and the 30-year £550 million Aberdeen and North East Scotland road improvement project.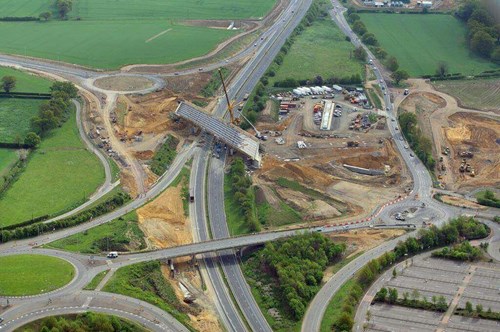 Photograph: An aerial view of the new Postwick overbridge under construction. (Picture courtesy Mike Page)