Balfour Beatty, the international infrastructure group, has been awarded a 454-unit student accommodation development scheme in Vauxhall, London for Urbanest, a developer and operator of student housing in central London.
Having previously delivered 2,520 units across five central London schemes for Urbanest as part of a long-running partnership, this latest £42 million project at 5 Miles Street, Vauxhall will include 454 apartments at a variety of price points. The 33-storey building will include a wealth of personal and communal study areas, lounges and a cycle store, together with significant enhancements to the public realm.
With focus on long term sustainability, photovoltaic panels and a green roof will be incorporated in order to minimize carbon emissions and reduce fuel consumption, alongside a combined heat and power (CHP) unit designed to recycle heat and energy within the development.
The scheme will create a number of jobs locally alongside an additional 20 apprenticeships as part of Balfour Beatty's ongoing commitment to The 5% Club, which aims to have a minimum of 5% of the total workforce made up of apprentices or graduates. The development will contribute to the wider £400 million regeneration of Vauxhall Square, which will include a significant amount of new office and residential development, alongside a new hotel and cinema complex.
Construction for 5 Miles Street is set to begin imminently and is scheduled to complete in summer 2018.
David Kennedy, Managing Director of London Region for Balfour Beatty said, "We are looking forward to continuing our longstanding relationship with Urbanest. To date we've delivered over 2,500 units of student accommodation for Urbanest and over 20,000 beds for private sector customers and academic institutes as well as significant investment into a number of schemes.
"Vauxhall Square is an important part of London's development by incorporating the local student population into the local community and we're pleased to be a part of the wider project".
Angus Kearin, Projects Director at Urbanest said, "We are also extremely proud to continue our close relationship with Balfour Beatty. The quality of their work underpins the need for close collaboration between clients and contractors and this partnership has been integral to our ongoing success." 
ENDS
Media enquiries to:
Balfour Beatty:
Rebecca Jones
t:  +44 (0) 207 963 2150
e:Rebecca.Jones2@balfourbeatty.com
Urbanest:
Blackstock:
Andrew Teacher
t: 07968 124545
e: andrew@blackstockpr.com
https://uk.urbanest.com/ 
For all non-media related enquiries please contact +44 (0)20 7216 6800 or info@balfourbeatty.com
Notes to editors:
Balfour Beatty is a leading international infrastructure group. With 34,000 employees, we provide innovative and efficient infrastructure that underpins our daily lives, supports communities and enables economic growth. We finance, develop, build and maintain complex infrastructure such as transportation, power and utility systems, social and commercial buildings.
Our main geographies are the UK, US, Middle East and South East Asia. Over the last 100 years we have created iconic buildings and infrastructure all over the world including the London Olympics' Aquatic Centre, Hong Kong's first Zero Carbon building, the world's biggest shopping mall in Dubai, the National Museum of the Marine Corps in the US and the Channel Tunnel Rail Link.
Balfour Beatty is a well-established provider of student accommodation across the UK and US, providing a full turnkey delivery approach including investment, design, construction and operations,
As one of the UK's largest student accommodation contractors, Balfour Beatty has completed projects to design and build new residences for both academic institutions and private sector customers. To date Balfour Beatty has delivered 22,000 beds and has a further 7,000 in the pipeline. Current projects include the £39m Stapleton House Project in London for Unite students, which is the 23rd project over 14 years for the student accommodation specialist.
Balfour Beatty is also a developer, operator and investor of on-campus and off-campus student accommodation in its own right, working in popular university towns and cities. Examples include a partnership with the University of Edinburgh to own and operate 1,180 beds and a project in Glasgow developing 536 beds of accommodation for direct-let to students.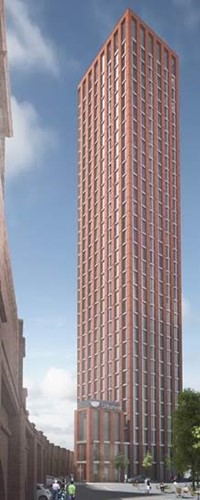 Photo: Artist's impression of 5 Miles Street