Balfour Beatty has teamed up with Ford, the UK's best-selling commercial vehicle brand, to support the launch of a new suicide prevention campaign delivered in partnership with The Lighthouse Club, a charity which provides emotional, physical and financial wellbeing support to construction workers and their families
Following Mental Health Awareness Week earlier this month, 'Make it Visible' aims to combat construction worker suicide. The initiative sets out to provide counsellors and mental health first aiders with a means to get to construction sites that do not currently have a mental health provision in place, with branded vehicles and onsite posters directing workers to a safe place to talk, enabling people to access mental health support more easily.
The campaign compliments the strong progress Balfour Beatty has made since 2017 in providing and promoting the help available for its employees and supply chain partners.
Through its partnership with Mates in Mind - a leading UK charity raising awareness and addressing the stigma of poor mental health, focused on construction and related sectors and established by the Health in Construction Leadership Group (HCLG) – Balfour Beatty has already trained over 588 mental health first aiders across the UK.
The company has also delivered 10,000 'Start the Conversation' sessions to further awareness of the impact of poor mental health and to signpost individuals to the support available.
As a result, Balfour Beatty has seen a 26% increase in requests to its Employee Assistance Programme, demonstrating that its employees are aware of the routes and support available to them and in its most recent Employee Engagement Survey, 94% of employees stated that they felt that they are cared for at the company.
In addition, three of Balfour Beatty's colleagues took home Highways Heroes gongs at the 2021 Safer Highways Awards, for intervening to save the life of a member of the public in distress on the road network. 
Heather Bryant, Health, Safety and Environment Director at Balfour Beatty said: "For too long, the construction and infrastructure industry has treated mental health as the poor cousin of physical health. We must change this incredibly outdated perception – and at Balfour Beatty, we are continuing to lead the way. 
The 'Make it Visible' campaign compliments the work we have done with the charity Mates in Mind, by specifically helping to reach those, including smaller companies and supply chain partners, who may not be aware of the support available to them whilst also providing a dedicated, safe space to talk."
Mandy Dean, Director, Commercial Vehicles, Ford of Britain and Ireland, commented, "This campaign is hugely important to Ford and highlights the importance of mental wellbeing alongside physical wellbeing on the construction site.
"As the UK's best-selling commercial vehicle brand, it is likely the majority of construction workers are also Ford customers and operators, so we feel we have a duty to support them, through this partnership with the Lighthouse Club and Balfour Beatty, raising awareness and getting support to those in need of it."
Bill Hill, CEO of the Lighthouse Construction Industry Charity, said: "We are absolutely delighted to be partnering with Ford to deliver the "Make it Visible" campaign.
"These highly distinguishable vans will be visiting sites across the country to deliver visible support to the boots on the ground workforce. The vehicles are manned by the Lighthouse Club's on-site team who are all Mental Health First Aiders with relatable experiences in the construction industry. I am convinced that this initiative will have a positive impact on workforce wellbeing and ultimately save lives.
To learn more about 'Make it Visible' read more here or learn about Balfour Beatty's approach to mental health awareness.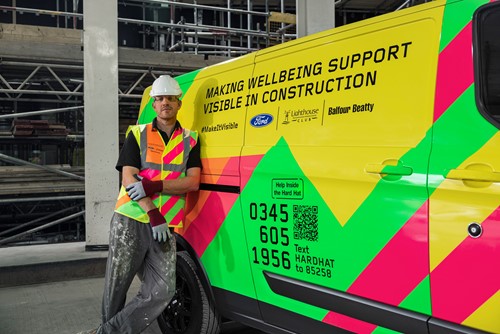 Image: 'Make it Visible' at Balfour Beatty's Lewisham Gateway Phase Two regeneration project