Balfour Beatty today started preliminary works on the £104 million Norwich Northern Distributor Road (NNDR) contract on behalf of Norfolk County Council.
The start of works, comes less than two weeks after full approval of the scheme and the release of national funding which was announced in the Chancellor's Autumn Statement.
Balfour Beatty was awarded the Early Contractor Involvement (ECI) phase in 2009 and has since then been assisting Norfolk County Council with design development, construction feasibility advice and development of the scheme's target cost.
The preliminary work, including clearance of vegetation, archaeology, utility service diversions and some drainage lagoon excavations, will be stepped up in January along the whole footprint of the scheme. This will prepare the route before construction of the new road starts around the end of March, with completion of the main works early in 2018.
Today's start of works began near Rackheath, where ground works are being carried out for a bat roost barn - one of the many wildlife and environmental protection measures built into the project. Stephen Tarr, Balfour Beatty Managing Director, Major Projects joined the Leaders of Norfolk County Council, Cllr George Nobbs, and Broadland District Council, Cllr Andrew Proctor, and  Chris Starkie, Managing Director of New Anglia LEP, to mark the transition from the  planning, project development and approval process to actual work on site.
Once complete, the 20km dual carriageway, running from the A47 at Postwick to the A1067 Fakenham road, will take thousands of vehicles a day off congested and unsuitable roads in and around Norwich. As well as easier journeys and relief for local communities, the NNDR will:
Pave the way for a range of further 'Transport for Norwich' improvements in and around Norwich.
Improve accessibility and journey times in Broadland and to and from North Norfolk.
Provide a high quality link to Norwich International Airport from the A47 trunk road.
Improve access to existing and planned business and housing areas.
Give a £1billion boost to the local economy.
Stephen Tarr, Balfour Beatty Managing Director, Major Projects, said;
"Today we are delighted to have begun work to deliver a scheme which will bring extensive benefits not only to local communities, but to supporting regional economic growth.  This  project draws on Balfour Beatty's expertise in delivering major road schemes and we are delighted to have taken the scheme through the early contractor involvement phase right through to preliminary works and now beyond to deliver a transformational project for the region."
ENDS
Media enquiries to:
Am Golhar
t:   +44 (0)207 216 6897
m:+44 (0)7815 703111              
e:  am.golhar@balfourbeatty.com
www.balfourbeatty.com | follow us @balfourbeatty
Notes to editors:
Balfour Beatty (www.balfourbeatty.com) is a leading international infrastructure group. With 36,000 employees, we provide innovative and efficient infrastructure that underpins our daily lives, supports communities and enables economic growth. We finance, develop, build and maintain complex infrastructure such as transportation, power and utility systems, social and commercial buildings.
Our main geographies are the UK, US, Middle East and South East Asia. Over the last 100 years we have created iconic buildings and infrastructure all over the world including the London Olympics' Aquatic Centre, Hong Kong's first Zero Carbon building, the world's biggest shopping mall in Dubai, the National Museum of the Marine Corps in the US and the Channel Tunnel Rail Link.
Balfour Beatty is a leading road designer, constructor, asset manager and maintenance provider in the UK. Projects carried out include traditional work through to the more complex design-build-finance-operate (DBFO), smart motorway and early contractor involvement (ECI) schemes.
Balfour Beatty's current portfolio of major road schemes includes the £292m A14 Cambridge to Huntingdon improvement scheme, the £745m Aberdeen Western Peripheral Route and Balmedie/Tipperty project, the £129m M3 J2 to J4a Smart Motorway scheme, the £55m M25 Junction 30 Upgrade Scheme, the £44m A1 Lobley Hill scheme and the 30-year £550 million Aberdeen and North East Scotland road improvement project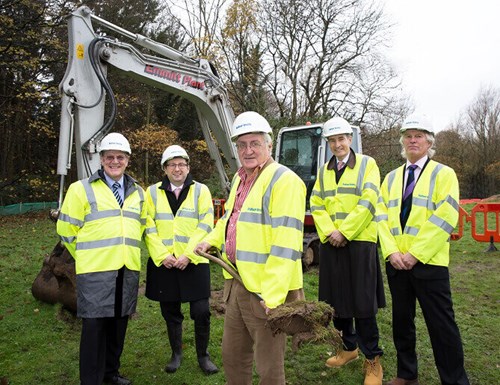 Photograph: Image from the preliminary start of works on NNDR,(pictured left to right) Andrew Proctor, Leader of Broadland District Council,Chris Starkie, Managing Director, New Anglia LEP,George Nobbs (with spade), Leader of Norfolk County Council, Stephen Tarr, Managing Director, Major Projects,John Timewell, Vice-Chair of NCC's Environment, Development and Transport Committee.