Staff from Balfour Beatty, the international infrastructure group, have thrown their support behind the Wildlife Trust as part of Balfour Beatty's volunteer scheme which allows employees two days a year to volunteer their time with the organisation of their choice.
The ten volunteers spent the day clearing an overgrown area of College Copse, the Wildlife Trust's site in Rotherwick, Hampshire.
Utilising the team's expertise in site clearance, the area was soon cleared which will allow wildflowers to flourish. The area will act as a biodiversity hub allowing young people to come and learn about the local area and surrounding wildlife.
Claire Baker, Environment and Sustainability Manager for Balfour Beatty said, "We were pleased to be able to help out on this worthwhile cause.
"Preserving the wildlife around us in the areas in which we're working is really important for us an organisation and something we take very seriously across the business".
Ian Stoneman, Reserves Officer for North Hampshire at The Wildlife Trust said, "The team were excellent, they had lots of enthusiasm and threw themselves into the work.
"They cleared the area of trees and opened up the ground around the pond to act as a glade in the woodland, allowing for a range of species to prosper including butterflies, bees and invertebrates.
"The new clearing will allow lots of light to get down to satellite ponds which will benefits newts and a range of other amphibians. I am hugely grateful, they were really great".
Balfour Beatty has recently published two videos which demonstrate how they protect the environment:
ENDS
Media enquiries to:
Rebecca Jones
Balfour Beatty
t: +44 (0) 207 963 2150
e: Rebecca.Jones2@BalfourBeatty.com
For all non-media related enquiries please contact +44 (0)20 7216 6800 or info@balfourbeatty.com
Notes to editors:
Balfour Beatty (www.balfourbeatty.com) is a leading international infrastructure group. With 34,000 employees, we provide innovative and efficient infrastructure that underpins our daily lives, supports communities and enables economic growth. We finance, develop, build and maintain complex infrastructure such as transportation, power and utility systems, social and commercial buildings.
Our main geographies are the UK, US, Middle East and South East Asia. Over the last 100 years we have created iconic buildings and infrastructure all over the world including the London Olympics' Aquatic Centre, Hong Kong's first Zero Carbon building, the world's biggest shopping mall in Dubai, the National Museum of the Marine Corps in the US and the Channel Tunnel Rail Link.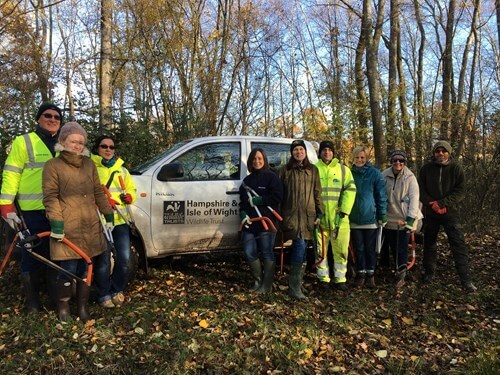 Image: Volunteers from Balfour Beatty transform overgrown land into a teaching area for the Wildlife Trust