Balfour Beatty today announces that it has been awarded the £267 million Midland Metropolitan Hospital contract on behalf of Sandwell and West Birmingham Hospitals NHS Trust ("the Trust").
Having been appointed to deliver the Early Works contract in 2018, Balfour Beatty will now progress with the main construction works to the 80,000 square metre hospital including the completion of the external façade, and all associated mechanical, electrical and plumbing services, delivered by Balfour Beatty Kilpatrick.
The 670-bed Midland Metropolitan Hospital will offer maternity, children's and inpatient adult facilities to half a million people. Located in Smethwick, the hospital will remain the closest acute hospital to the centre of Birmingham that caters for both adults and children. 
Balfour Beatty will utilise its technical expertise to successfully deliver the project, implementing the latest Building Information Modelling (BIM) techniques to optimise the design, construction and performance of the building and enable future maintenance to be engineered into the scheme.
Dean Banks, Chief Executive Officer of Balfour Beatty's UK Construction Services business, said: "This is a key project for the Midlands and a long-awaited moment for healthcare services in the local community. Following the successful completion of the Early Works phase, we are pleased that we have been entrusted to deliver the final elements of the scheme.
"Our wealth of experience and expertise will ensure that the Midland Metropolitan Hospital will service future generations for years to come."
Richard Samuda, Chairman of Sandwell and West Birmingham NHS Trust, said: "The people of Sandwell and West Birmingham have been waiting for this hospital for too long, as have our staff who are doing an incredible job delivering health care services from some buildings that are no longer best suited for modern healthcare services. This news cannot come soon enough for those colleagues. Reaching this milestone is testament to the determination of Trust colleagues and leaders in partner organisations, who, with the support of cross party political leaders, have enabled us to agree this contract to complete the hospital."
Toby Lewis, Chief Executive of Sandwell and West Birmingham NHS Trust, added: "Today is about moving on and looking to the future, as we shortly welcome the return of all works and trades to the site to complete this vital facility. The Commonwealth Games comes to Birmingham in 2022, and we would like to be in our new home by then, bringing our clinical teams together to deliver the best acute services for our patients and their families."
Works are due to commence in December 2019 with the hospital due to open to the public in 2022. At construction peak, the project will employ a workforce of 760 including four graduate and 35 apprenticeship positions.
ENDS
Media enquiries to:
Vivienne Dunn
Balfour Beatty
+44 (0)207 963 2150
vivienne.dunn@balfourbeatty.com
www.balfourbeatty.com | follow us @balfourbeatty
All non-media related enquiries should be directed to +44 (0)20 7216 6800 or info@balfourbeatty.com
Notes to editors:
Balfour Beatty (balfourbeatty.com) is a leading international infrastructure group. With 26,000 employees, we provide innovative and efficient infrastructure that underpins our daily lives, supports communities and enables economic growth. We finance, develop, build and maintain complex infrastructure such as transportation, power and utility systems, social and commercial buildings.
Our main geographies are the UK, US and Hong Kong. Over the last 100 years we have created iconic buildings and infrastructure all over the world including the London Olympics' Aquatic Centre, Hong Kong's first Zero Carbon building, the National Museum of the Marine Corps in the US and the Channel Tunnel Rail Link.
Balfour Beatty has a long and proud history working in the North and Midlands, delivering innovative infrastructure and build projects and supporting growth across the region. The company has proven expertise across multiple sectors including highways, education, flood & coastal defence, and of working with local authorities through the Scape National Civil Engineering and Infrastructure framework along with other regional and national frameworks.
Our portfolio of current projects includes the £10m Midlands Metropolitan hospital early works contract, the delivery of two contracts for HS2 worth a combined total of c.£2.5billion, The University of Manchester's £287m Manchester Engineering Campus Development (MECD), representing one of the largest capital developments ever undertaken by a UK higher education institution, and sections of the Manchester Smart Motorways scheme for Highways England. Other live projects include the £40.7m New Cross Student Development in Manchester which will feature 274 student apartments, the £46.3m A487 Caernarfon to Bontnewydd carriageway with seven bridges and 12 culverts, and the £21.3m Hornsea HOW2 substation contract comprising of foundations, buildings and M&E works.
Completed projects include the £50m 'Diamond' building at the University of Sheffield, the £14m mechanical and electrical services for the new National Graphene Institute at the University of Manchester and a £22.5m new teaching and lecture space at Sheffield Hallam University. Balfour Beatty has also recently completed the £27m Anchorsholme coastal defence scheme on behalf of Blackpool Council, and the Gateshead District Energy Centre, one of the North East region's first energy centres, which will generate and supply heat and power for homes, businesses and public buildings across Gateshead Town Centre. We have also delivered an £85m automotive research facility for the University of Warwick in Coventry.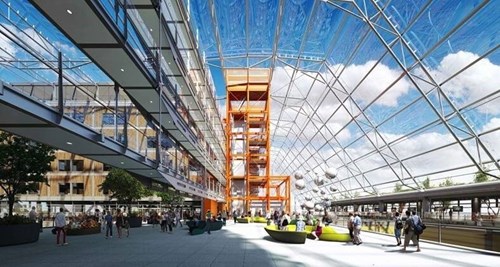 Image: View of the Winter Garden - Image courtesy of Edward Williams Architects