Balfour Beatty today announces that it has been awarded a £68 million contract by Audley Group to complete the new Mayfield Watford retirement village in Watford, London.
Responsible for the design and construction of the new retirement village, Balfour Beatty will lead the completion of  255 one and two bed apartments, alongside communal facilities including a health club, swimming pool, restaurant and a multi-purpose village hall with surrounding green spaces and parking.
To support the delivery of its sustainability strategy "Building New Futures", Balfour Beatty will deploy safe and sustainable outcomes throughout the project lifecycle  including the offsite manufacture of the 180 apartment balconies, reducing the working at height risk as well as improving overall project efficiency.
Today's news is the latest project in a successful seven year relationship with Audley Group, marking the third consecutive award with the company having been appointed to deliver the first and second phase of the Audley Group's Cooper's Hill development in Englefield Green, Surrey in August 2017 and October 2018 respectively.
Lindsay McGibbon, Regional Managing Director of Balfour Beatty's UK Construction Services business in London, said: "We have stayed the course throughout the COVID-19 pandemic, showing our commitment to providing high quality construction for Audley, whilst also utilising innovative techniques including offsite manufacturing to ensure the delivery of a safe and efficient build."
Kevin Hudson, Construction Director, Audley Group commented: "The demand for our retirement villages remains at an all-time high, so we are pleased to be able to continue our work with Balfour Beatty.  We know, through our long-term partnership, how the team works to deliver to our high standards. Across the UK there continues to be a chronic lack of quality retirement housing provision and we are accelerating our growth plans to help meet this demand. Working with quality construction partners like Balfour Beatty helps us redress this balance."
Following the successful delivery of the pre-construction services works during the COVID-19 pandemic, early works are now progressing at pace with main construction works expected to complete in 2023. At construction peak, the project will employ a team of 300.
ENDS
Media enquiries to:
Vivienne Dunn
Balfour Beatty
+44 (0)207 963 2150
Vivienne.Dunn@balfourbeatty.com
www.balfourbeatty.com | follow us @balfourbeatty
All non-media related enquiries should be directed to +44 (0)20 7216 6800 or info@balfourbeatty.com
Notes to editors:
Balfour Beatty (www.balfourbeatty.com) is a leading international infrastructure group with 26,000 employees driving the delivery of powerful new solutions, shaping thinking, creating skylines and inspiring a new generation of talent to be the change-makers of tomorrow.  
We finance, develop, build, maintain and operate the increasingly complex and critical infrastructure that supports national economies and deliver projects at the heart of local communities. 
Over the last 11 years we have created iconic buildings and infrastructure all over the world including: the £1.5 billion A14 improvement scheme - Britain's biggest road project; Hong Kong's HK$5.5 billion world-class harbour theatre project for the West Kowloon Cultural District Authority; and the 12.5 mile $429 million North Metro Commuter Rail line in Colorado, US.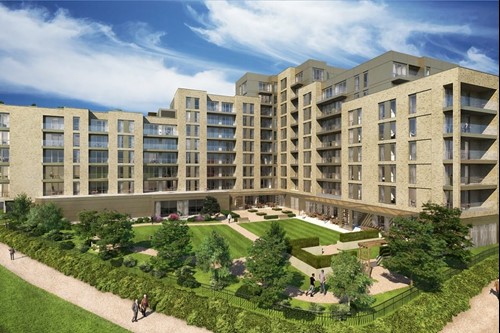 Image: Artist impression of the Mayfield Watford retirement village