Balfour Beatty, the international infrastructure group, has been awarded the 'Inclusive Procurement Award' at last night's Minority Supplier Development UK (MSDUK) awards ceremony. The award recognises Balfour Beatty's inclusive approach towards its supply chain and its engagement with minority owned and small businesses.
The MSDUK awards celebrate businesses which demonstrate success in the areas of innovation, sustainability, growth and commitment to diversity in their supply chain. The awards acknowledge the collaborative efforts made to make supply chains both inclusive and competitive, using procurement as a catalyst for growth.
Aaron Reid, Sustainable Supply Chain Manager for Balfour Beatty, said: "We are delighted to have won the Inclusive Procurement award for 2016. It's a fantastic recognition for the commitment we've made to SME and minority owned business in the UK and all the hard work that goes on behind the scenes.
"SMEs now make up 76% of our total supply chain; winning the award tells us we are on the right track to embed a more inclusive approach to procurement throughout our business. We hope to inspire other businesses to adopt a similar approach and that the award and our approach to inclusivity will encourage more small and minority owned businesses to want to work with Balfour Beatty."
ENDS

Media enquiries to:
Vivienne Dunn
Balfour Beatty
t:  +44 (0) 207 963 2150
e: Vivienne.Dunn@balfourbeatty.com
For all non-media related enquiries please contact +44 (0)20 7216 6800 or info@balfourbeatty.com

Notes to editors:
• Balfour Beatty (www.balfourbeatty.com) is a leading international infrastructure group. With 34,000 employees, we provide innovative and efficient infrastructure that underpins our daily lives, supports communities and enables economic growth. We finance, develop, build and maintain complex infrastructure such as transportation, power and utility systems, social and commercial buildings.
• Our main geographies are the UK, US, Middle East and South East Asia. Over the last 100 years we have created iconic buildings and infrastructure all over the world including the London Olympics' Aquatic Centre, Hong Kong's first Zero Carbon building, the world's biggest shopping mall in Dubai, the National Museum of the Marine Corps in the US and the Channel Tunnel Rail Link.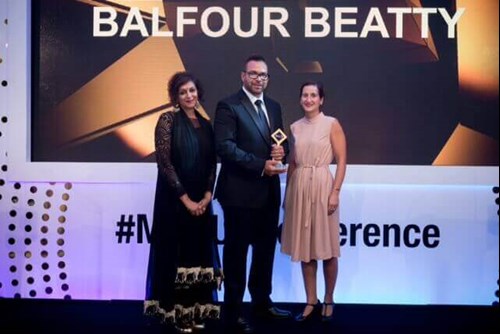 Image: Balfour Beatty team receiving award