Over the last ten months, I've been lucky enough to watch one of my youngest and most inspirational colleagues – Mona Nawaz – compete against hundreds of individuals to reach the final for the WorldSkills UK 'Digital Construction' competition.
WorldSkills is a global organisation that holds multiple competitions across numerous sectors ranging all the way from hairdressing right through to the construction and infrastructure industry.  The UK is represented by WorldSkills UK, an independent charity that is using international best practice to raise standards in apprenticeships and technical education so more young people and employers succeed.
Ultimately, WorldSkills has one aim: to raise the profile and recognition of skilled people and show how important skills are in achieving economic growth. For many, many years, Balfour Beatty has shared this ambition; recognising the importance of collecting skills from a diverse pool of individuals to improve how we operate as a business and Mona's exceptional performance throughout the competition so far is further proof of how we always strive to support our people in nurturing and developing new skills.
As the final fast approaches, I'm sitting down with Mona to find out what she's been up to since she took the plunge and decided to participate in the WorldSkills competition. Let's hear more…
Hi Mona. I'm really pleased to be talking to you today – particularly as we approach 'crunch' time for the WorldSkills competition. Now firstly, would you mind telling us a little more about yourself?
I'm Mona - a reasonably recent graduate of New College Lanarkshire where I studied Architectural Technology. During my studies, I had loads of incredible opportunities, including taking on the role of Temporary Computer Aided Design Lecturer while completing my qualification.
I joined Balfour Beatty around three months ago as a BIM Coordinator. The use of BIM within the construction and infrastructure industry really interested me throughout my studies. I find it fascinating how it plays such an integral role at every stage of a project's lifecycle and can make the design, construction, operation, and decommissioning process of a scheme much more efficient. It's pretty smart really.
That's why I was absolutely delighted when Balfour Beatty put their trust in me and gave me the opportunity to put my skills and knowledge into practice!
How did you hear about WorldSkills and why did you decide to take part?
I am always up for a challenge. In my final year of College, I saw an advertisement for the WorldSkills UK 'Digital Construction' competition, which leads to the international WorldSkills Competition and thought – "I could do that". I took the plunge and have never looked back.
While it's taken me out of my comfort zone, it's also given me a renewed confidence and really helped me further my skills and expertise; whether that's identifying potential issues on a building plan or turning those plans into a digital model.
It's also provided me with the opportunity to meet likeminded people as well as businesses and employers who are on the lookout for new talent. A win, win all round I would say.
I understand that through the WorldSkills competition, you secured your role at Balfour Beatty? Can you explain a little bit more about how that came about?
Precisely. Balfour Beatty partnered with WorldSkills UK earlier this year as part of their commitment to encouraging new entrants to the construction and infrastructure industry.
In particular, as the sector advances and technology becomes increasingly more prevalent in driving sustainable outcomes and efficiencies, making sure the company has the right people and the required skills, has never been more important.
I was introduced to my colleagues at Balfour Beatty through a networking event as part of WorldSkills UK, where partners and employers had the opportunity to meet with competitors. We immediately bonded and although I hate to blow my own trumpet, they were impressed with my performance during the competition.
I think it's safe to say, we haven't looked back, and they offered me a role as BIM Coordinator just over three months ago – an offer I was delighted to accept.
What advice would you give those thinking about joining the construction and infrastructure industry?
Honestly? Just do it! As a young Muslim woman, I was somewhat intimidated about joining an industry that is stereotypically 'male dominated'. But I couldn't have been more impressed about the significant steps that Balfour Beatty has taken to tackle these incredibly outdated perceptions.
For example, they recently reviewed and updated their 'Family Friendly' policies and launched their yearly Employee Engagement Survey which provides a platform for all employees across the UK, US and Hong Kong to have their say about the business so that they can make meaningful, positive improvements. 
Everyone I have encountered so far has been incredibly supportive. Not just on a personal level but in a professional sense too – motivating me, helping me develop and hone my skills and providing me with the guidance I need to make sure that I can succeed.
I am so glad that I took the leap!
And finally, I would be interested to hear about how has Balfour Beatty helped you, and supported you, along your journey at WorldSkills?
Balfour Beatty has been an incredible support throughout, encouraging me to take the time I need to make sure I am fully prepared for the competition and have motivated me to continue aspiring for the best.
I'm really excited to see what my career has in store for me and I know that from experience, Balfour Beatty and my amazing colleagues will show unwavering support as I climb the ladder to success!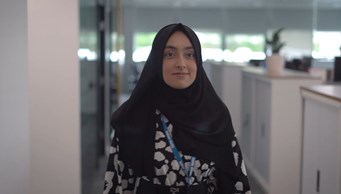 Minahil (Mona) Nawaz, BIM Coordinator