More than 16,000 employees for the UK's largest contractor, Balfour Beatty, have participated in its annual Health and Safety Stand Down to focus awareness on the company's Zero Harm vision. 
During the stand down, employees, supply chain partners and senior leaders, including Group Chief Executive Leo Quinn, across all of Balfour Beatty's sites and offices downed tools and stopped work for a short period between Friday 22 and Monday 25 July to discuss how to prevent work-related illnesses and injuries.
This year there was a particular focus on dust elimination and control, the leading cause of occupational ill health in the construction sector. 
Heather Bryant, Balfour Beatty's Health, Safety, Environment & Sustainability Director, said: "Nothing is more important than the health and safety of our people and those who work for us.
"Every year we take time out to pause and think about our approach to working safely, what more we can do and how we can guard against complacency." 
The annual stand down is part of Balfour Beatty's work to engage its workforce in its Zero Harm culture, to remind colleagues of the need to be constantly vigilant 24/7, and to keep people safe and free from ill-health all day every day.
This year's stand down involved a series of toolbox talks and videos to generate discussion about local best practice and observations and to identify ways to eliminate health and safety risks in the workplace.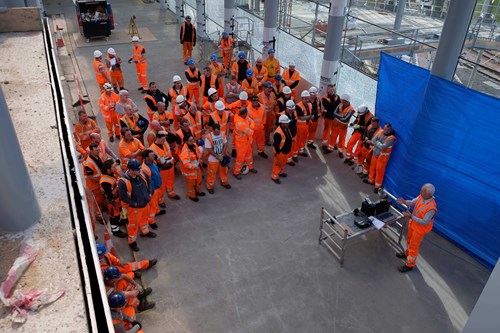 Image: Balfour Beatty's Edinburgh Gateway team during their health and safety stand down