Balfour Beatty Living Places has partnered with Groundwork Northamptonshire, a charity working to transform lives in some of the county's most disadvantaged communities, to provide young people with work experience placements and future employment opportunities.
Through the partnership, Balfour Beatty Living Places will provide £40,000 to fund a number of 28-week paid 'work-ready' placements at Groundwork Northamptonshire's 'The Green Patch' community garden project in Kettering, where four young people will learn to overcome social isolation, build meaningful relationships, and acquire skills to become productive members of the workforce.
They will then embark on a four-week paid placement on Balfour Beatty Living Places' Northamptonshire PFI Contract, learning how to install and maintain Street Lighting assets, while also gaining skills in risk control, safety culture and team work on local highway networks.
Following the placements, two candidates will then be offered the opportunity to take up an apprenticeship position in Balfour Beatty Living Places and will be supported as they enrol in, and undertake, Highway Electrical Apprenticeship courses.
The partnership follows a successful pilot in 2022, which saw Balfour Beatty Living Places welcome one Trainee Street Lighting Operative onto its Northamptonshire Street Lighting contract after engaging with Groundwork Northamptonshire to establish a meaningful strategy with long term opportunities for young people in the local community.
The company intends to continue seeking opportunities to provide young people from disadvantaged backgrounds with early career opportunities across the UK.
Steve Helliwell, Managing Director of Balfour Beatty Living Places said: "The potential of this partnership is really exciting. By working with Groundwork Northamptonshire, we have a real and meaningful opportunity to create lasting, positive change within these communities, whilst simultaneously addressing the skills shortage our industry is currently facing.  
"By investing in the future and providing opportunities for young individuals from disadvantaged backgrounds, we will build a stronger, more resilient workforce and empower the next generation of engineers and construction professionals to excel in practical skills."
Kimberley Lawson, Operations Director of Groundwork Northamptonshire, said: "Corporates rarely invest in young people on a grassroots level so this programme and Balfour Beatty Living Places' support and commitment is really special.
"This partnership is all about supporting young people and empowering them to take their next steps into the world of work and employment."
Talking about his experience, Joseph Rippingale, Trainee Street Lighting Operative at Balfour Beatty Living Places, who joined the company following his 'work-ready' placement last year said: "Unsure of which path I wanted to follow and facing bleak prospects as I struggled with mental health issues and low confidence, I thought that long term unemployment would be my future.
"I am grateful to Balfour Beatty Living Places and Groundworks Northamptonshire who joined forces to provide young people like me with opportunities that have turned into an established and secure career path."
The partnership builds on Balfour Beatty's commitment to attracting the next generation of talent, with 6.2% of the company's UK workforce made up of Apprentices, Graduates, Trainees and Sponsored Students as part of its membership of The 5% Club – a dynamic movement of employers committed to providing 'Earn & Learn' positions.
Groundwork UK is one of Balfour Beatty's official corporate charity partners alongside The Prince's Trust and Project RECCE. The charity was selected for its alignment with the targets and ambitions set out in the company's sustainability strategy, Building New Futures, and for its focus on mobilising practical community action on poverty and environment across the UK.
ENDS
Media enquiries to:
Talha Haroun
+44 (0)203 810 2345
Talha.haroun@balfourbeatty.com
www.balfourbeatty.com | follow us @balfourbeatty
All non-media related enquiries should be directed to +44 (0)20 7216 6800 or info@balfourbeatty.com
Notes to editors:
Balfour Beatty is a leading international infrastructure group with 25,000 employees driving the delivery of powerful new solutions, shaping thinking, creating skylines and inspiring a new generation of talent to be the change-makers of tomorrow.
We finance, develop, build, maintain and operate the increasingly complex and critical infrastructure that supports national economies and deliver projects at the heart of local communities.
Over the last 114 years we have created iconic buildings and infrastructure all over the world. Currently, we are working to deliver Hinkley Point C, the first UK nuclear power station in a generation; constructing the world-class arts and cultural facility, the Lyric Theatre, in Hong Kong; and designing, building, financing, operating and maintaining the Automated People Mover superstructure at the fifth busiest airport in the world, Los Angeles International Airport.
Balfour Beatty Living Places works in long-term partnerships with local authorities to create great places to live, work and play. We actively engage with local people to understand the needs of the communities we work in and shape the places where local economies can thrive and grow. As a leader in sustainable working, diversity, and social value, we use our expertise to bring real, positive change for our customers.  
Balfour Beatty is committed to attracting the next generation of talent. We want to inspire and educate people to consider the construction and infrastructure industry as an attractive long term career choice. As a member of The 5% Club, a dynamic movement of employers committed to providing 'earn and learn' positions', we continue to provide young people with the skills and experience they need to build strong, future careers.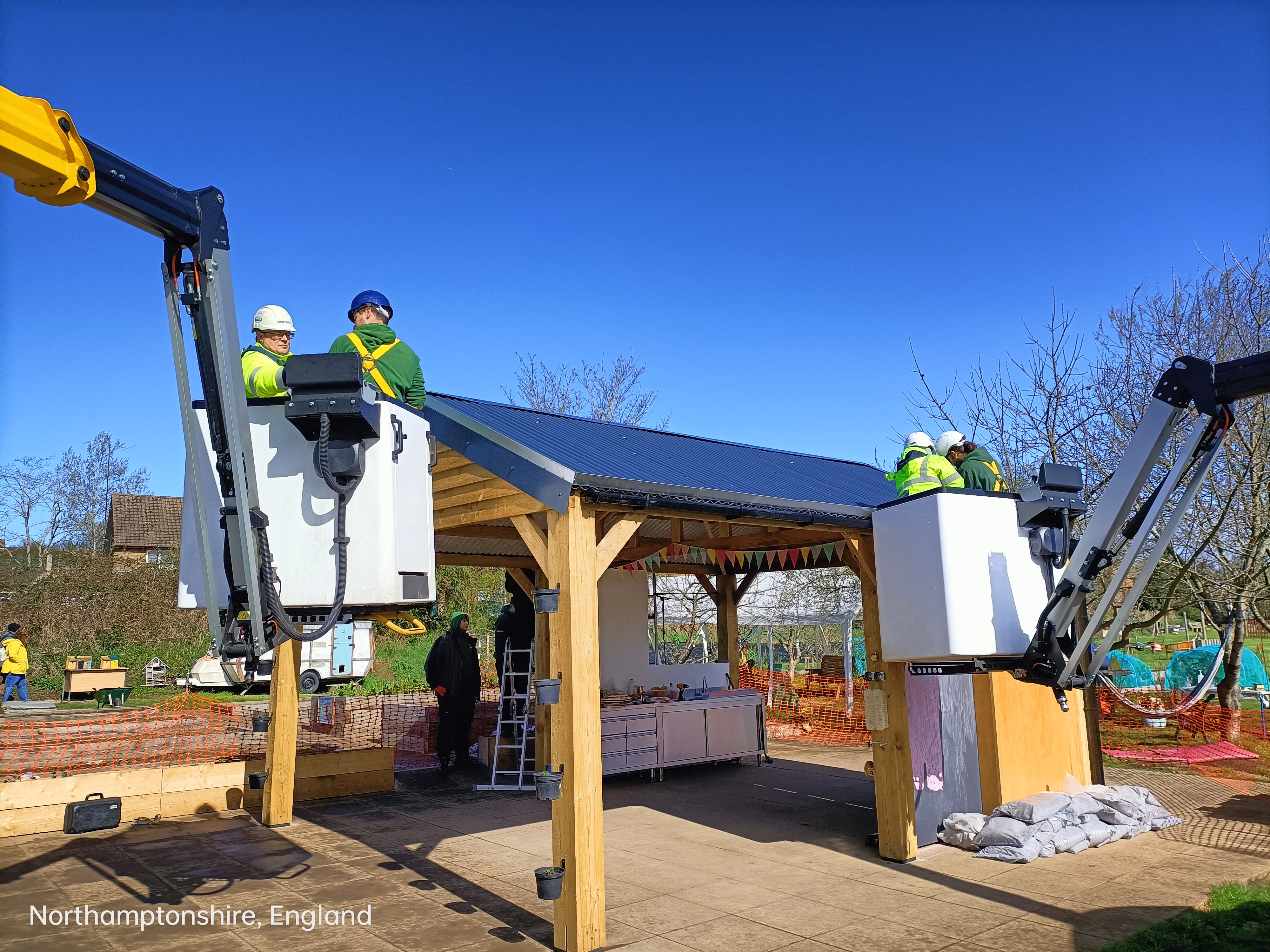 Balfour Beatty fitting a roof at the Groundwork Northamptonshire's 'The Green Patch' community garden