Balfour Beatty Living Places today announces that it has successfully launched two new state-of-the-art Operational Control Hubs on its Lincolnshire County Council and East Sussex County Council contracts.
The Operational Control Hubs use innovative technologies and systems designed in-house by Balfour Beatty Living Places to provide a single source of visibility to monitor all activities in real-time and drive efficiencies across the entire local road networks.  
Each Hub serves as a control room and allows operational teams to prioritise work based on the location of vehicles and availability of crew members, capture when tasks are completed and intervene where required to keep any outstanding activities on track.
By integrating live data from multiple systems, the Hubs enable teams to react swiftly to any issues on the network. The data helps to plot works in a digital, live environment, enabling the effective planning of reactive and emergency works as well as defect reporting.
The opening of Balfour Beatty Living Places' latest Operational Control Hubs builds on the success of its first facilities in Herefordshire and Southampton. Since it launched in 2021, the Operational Control Hub in Herefordshire has seen a 16% increase in productivity with 61% of reported defects and issues being actioned and completed ahead of schedule, while in Southampton the company has reduced the time it takes to complete tasks by 40% since August last year.
Steve Helliwell, Managing Director of Balfour Beatty Living Places said: "Our continued investment in digital technologies, such as the implementation of our Operational Control Hubs, demonstrates how we are actively seeking new, innovative ways of working to drive efficiencies and productivity across our business.
"Data is key in everything we do and by providing our operational teams with real-time information, we are also able to drive sustainable outcomes for our customers and the local community, by prioritising work based on the location of available vehicles and in turn reducing the carbon emissions associated with travelling."
Councillor Richard Davies, Executive member for Highways at Lincolnshire County Council said: "It's very positive to see the OCH system coming to Lincolnshire as I believe that there is a lot of potential for a more cohesive overview of works going on across our road network. 
"I am fascinated to see how the overall improvement in the system, especially with efficiency and better reactive times, emerges in the coming months." 
Cllr Claire Dowling, lead member for transport and the environment at East Sussex County Council, said: "We are delighted Balfour Beatty Living Places has brought this innovative technology to East Sussex.
"The new Operational Control Hub gives the team oversight across our entire road network enabling them to proactively respond to any issues and identify and resolve emergencies quickly, minimising disruption to the travelling public."
ENDS
All non-media related enquiries should be directed to +44 (0)20 7216 6800 or info@balfourbeatty.com
Notes to editors:
Balfour Beatty is a leading international infrastructure group with 25,000 employees driving the delivery of powerful new solutions, shaping thinking, creating skylines and inspiring a new generation of talent to be the change-makers of tomorrow.
We finance, develop, build, maintain and operate the increasingly complex and critical infrastructure that supports national economies and deliver projects at the heart of local communities.
Over the last 114 years we have created iconic buildings and infrastructure all over the world. Currently, we are working to deliver Hinkley Point C, the first UK nuclear power station in a generation; constructing the world-class arts and cultural facility, the Lyric Theatre, in Hong Kong; and designing, building, financing, operating and maintaining the Automated People Mover superstructure at the fifth busiest airport in the world, Los Angeles International Airport.
Balfour Beatty Living Places works in long-term partnerships with local authorities to create great places to live, work and play. We actively engage with local people to understand the needs of the communities we work in and shape the places where local economies can thrive and grow. As a leader in sustainable working, diversity, and social value, we use our expertise to bring real, positive change for our customers.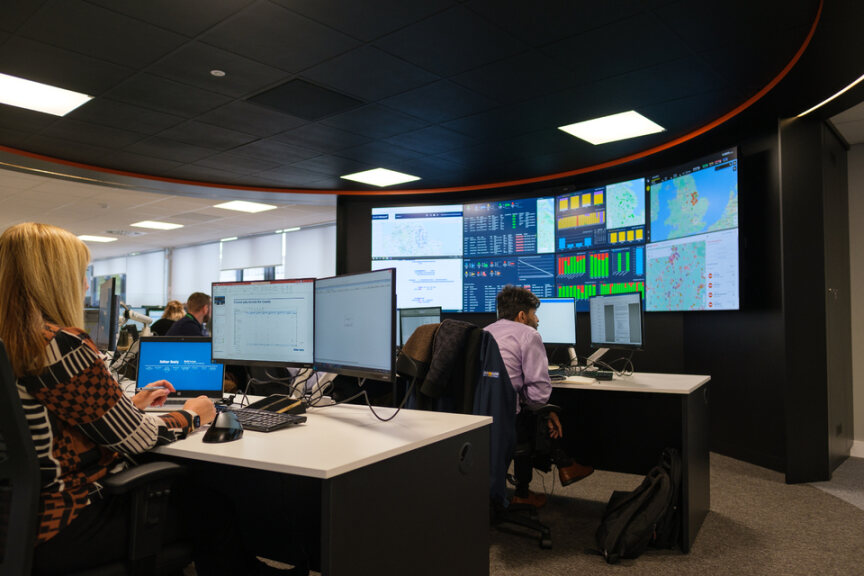 Image: The new Operational Control Hub in Lincolnshire