The article explores how Archie, who is one of several operatives who closely and carefully monitor CCTV cameras located across Southampton through 'Citywatch,' took immediate action and alerted the emergency services when a member of public jumped from Itchen Bridge into the water.
Despite the severity and upsetting nature of the situation, Archie remained calm under the immense pressure; guiding the emergency services to the exact location of where the individual had jumped, resulting in the individual rescued and taken to hospital for treatment.
Talking specifically about the heroic and courageous act, Brian Hammersley, Contract Director for Balfour Beatty Living Places, said: "It is through services such as Citywatch, that our dedicated team can not only react to disruption on the highways but can intervene to save people's lives and truly make a difference for the communities in which we operate.
"For his bravery and noble actions, I couldn't think of a better person for this commendation to be given to - Archie truly is our Highway's hero."
'Citywatch' is a 24/7 public safety and traffic monitoring control hub in Southampton, manned by an experienced team of Balfour Beatty Living Places operatives, who deal with both minor and major incidents and are trained to know when to alert the emergency services to keep local people safe.
To read the article in full, please click here.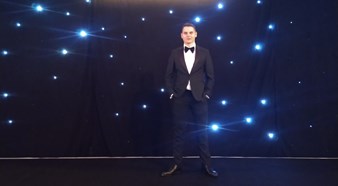 Archie Pope, Control Room Operative