Balfour Beatty Kilpatrick, a leading mechanical and electrical capability provider in the UK, has been awarded a contract valued in excess of £20 million by global engineering and construction company, M+W Group. The award will see Balfour Beatty Kilpatrick deliver the mechanical and electrical services for a new state-of-the-art pharmaceutical research and innovation facility being built in Hull.

Works are commencing this month and will include the installation of a new ventilation system, small power and lighting systems, fire and intruder alarms and a building management system.

Balfour Beatty Kilpatrick will utilise its technological expertise across the project, including the latest Building Information Modelling (BIM) techniques to optimise the design, construction and performance of the building and enable future maintenance to be engineered into the scheme. The company will also utilise its in-house modularisation capability for the bespoke design and off-site prefabrication of high-level multi-service modules, such as the roof top plant room, wiring, lighting and air handing plant.

Simon Lafferty, Balfour Beatty Kilpatrick Managing Director said: "This facility will be a flagship building and will allow us to showcase our wide range of mechanical and electrical expertise, including our design team's knowledge of hi-tech and process sectors. We have collaborated with M+W Group to produce a joint BIM strategy, as well as detailed programme and commissioning plans to facilitate their needs both in the construction phase and beyond."

With completion expected late next year, Balfour Beatty will employ a direct workforce of 175 at peak construction and offer four trade apprenticeships to further support Balfour Beatty's commitment to The 5% Club, a UK employer-led initiative focused on creating momentum behind the recruitment of apprentices and graduates into the workforce.
ENDS
Media enquiries to:
Vivienne Dunn
Balfour Beatty
+44 (0)207 963 2150
+44 (0)7966 895011
Vivienne.Dunn@balfourbeatty.com
www.balfourbeatty.com | follow us @balfourbeatty
All non-media related enquiries should be directed to +44 (0)20 7216 6800 or info@balfourbeatty.com
Notes to editors:
Balfour Beatty Kilpatrick is one of the largest organisations of its type in the UK, offering a range of mechanical and electrical engineering capabilities to a wide range of customers in the public and private sectors, including the nuclear, power, infrastructure, process and defence, transport, healthcare, education, residential and commercial markets. The business has a circa £300 million revenue business and a directly employed workforce of 2,200. 
Balfour Beatty Kilpatrick's current portfolio includes work on the Queen Elizabeth Class aircraft carriers project, Urenco's Tails Management Facility project, Crossrail's Woolwich and Whitechapel stations, the Gatwick Airport Framework, three major projects within the Nuclear Decommissioning Agency's Sellafield site and the Hinkley Point C Nuclear power station main electrical package.
Balfour Beatty Kilpatrick's Modular Systems+ business manufactures modular systems, plant and equipment at its 117,000m² factory in Wednesbury, providing M&E solutions with an emphasis on sustainable technology.
Balfour Beatty is a member of 'The 5% Club', a UK employer-led initiative focused on creating momentum behind the recruitment of apprentices and graduates into the workforce.
Balfour Beatty Chief Executive Leo Quinn was the founding member of The 5% Club. Balfour Beatty joined in December 2013, the first company in the infrastructure industry to join.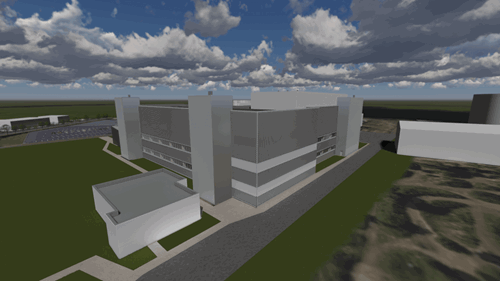 Image: Visualisation of the pharmaceutical research and innovation facility