Last week, the Balfour Beatty Mott Macdonald (BBMM) Area 4 team and the Manchester Smart Motorway joint venture team secured successes in Highways England's supplier recognition scheme.
The Highways England annual recognition scheme recognises the vital contribution made by its suppliers who help modernise, maintain and operate England's network of motorways and major A roads and are helping to deliver Highways England's £11 billion of improvements to 2020.  
Balfour Beatty Mott Macdonald's Area 4 team which operates and maintains a network of motorways and key trunk roads in Kent, Sussex and small parts of Surrey and Hampshire for Highways England won in the  Customer Experience category, awarded to suppliers that have demonstrated industry leading commitment to customer service. This includes listening to its customers to avoid disruption to journeys, reducing complaints, and working with key transport stakeholders to improve journey times.  
The Manchester Smart Motorway scheme , which is being delivered by a Balfour Beatty, Costain, Carillion, BAM/Morgan Sindall joint venture and is upgrading the M60 to a smart motorway between  junction 8 of the M60 and junction 20 of the M62 , secured a  'highly commended' award in  the supply chain management category. This is awarded to suppliers that demonstrate Highways England's strategic agenda, values and principles through their supply chains.
Stephen Tarr, Balfour Beatty Managing Director Major Projects said:
"We are delighted that two of our joint venture teams have been recognised with these two awards which reward and highlight our commitment to our customer.
"Both teams work on two of England's busiest motorways and have worked tremendously hard for this great achievement. They've set a standard that will set the benchmark for all our Highways England projects"
ENDS

Media enquiries to:
Am Golhar 
Balfour Beatty
t:   +44 (0)207 216 6897
m:+44 (0)7583 069445              
e:  am.golhar@balfourbeatty.com
| follow us @balfourbeatty
Notes to editors:
Balfour Beatty (www.balfourbeatty.com) is a leading international infrastructure group. With 36,000 employees, we provide innovative and efficient infrastructure that underpins our daily lives, supports communities and enables economic growth. We finance, develop, build and maintain complex infrastructure such as transportation, power and utility systems, social and commercial buildings.
Our main geographies are the UK, US, Middle East and South East Asia. Over the last 100 years we have created iconic buildings and infrastructure all over the world including the London Olympics' Aquatic Centre, Hong Kong's first Zero Carbon building, the world's biggest shopping mall in Dubai, the National Museum of the Marine Corps in the US and the Channel Tunnel Rail Link. 
Balfour Beatty is a leading provider of services to Highways England. Since 2009 Balfour Beatty has been working in partnership with Skanska, Atkins and Egis to deliver the £6.2 billion M25 DBFO project for the Highways England, including the widening over 100km of the motorway to four lanes and conversion to all‐lane running, or 'smart' technology (the first fully operational scheme of its type in the UK). It is also currently delivering the £184 million Manchester Smart Motorway and £129 million M3 Smart Motorway schemes and is engaged on the £75 million A63 Castle Street Hull improvement scheme under an Early Contractor Involvement (ECI) design and build contract. 
The company operates the strategic road network on behalf of the Highways England in Area 4 (Kent, Surrey and East Sussex) and Area 10 (Cheshire, Lancashire and Merseyside), and operates the latest generation road technology maintenance contracts (RTMC) for the Highways England in the South West, North West and the Midlands.
Other schemes delivered previously include the £371 million A3 Hindhead Tunnel, the £88 million M4/M5 'smart motorway' scheme and the £360 million A46 Newark to Widmerpool Improvement Scheme.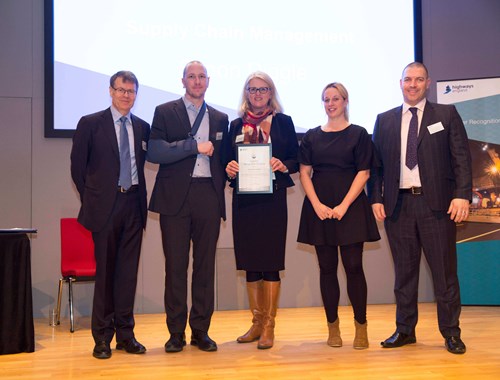 BBMV, Area 4 Project team collecting their Supplier Recognition Awards