The UK's biggest road construction project, the A14, has successfully completed more than a quarter of the project's main construction work as it marks its first year of construction. The £1.5 billion project is being delivered by a four-way joint-venture comprised of Balfour Beatty, Carillion, Skanska and Costain.

The project will see 21 miles of strategic road network between Cambridge and Huntingdon upgraded from two to three lanes in each direction including a brand new 12 mile bypass south of Huntingdon. The upgrade, which is due to complete in 2020, will also feature the construction of 34 bridges and structures, including the 750-metre long River Great Ouse viaduct, with one bridge already open to traffic.

To successfully achieve this milestone, a total of 3 million man hours have been worked, and 2.5 million cubic metres of soil, the equivalent to 1,000 Olympic swimming pools, have been moved into position to create foundations for the road and junctions.

The A14 team is also working to provide an enhanced environment for local wildlife. Three of the 18 wildlife habitats, which will be built as part of the scheme, have already been created. Upon completion of the scheme, there will be 271 hectares of new habitat.

The project's first year has seen the recruitment of 22 apprentices, 44 graduates and work experience placements for 19 students. The A14 delivery team has also allocated more than £110,000 to 16 local projects over the past year through the A14 Community Fund. More than 2,000 people are estimated to benefit from the community fund projects so far, with initiatives including supporting people who have been out of employment to gain skills through growing plant plugs and looking after the natural environment locally.

The project's archaeology team is making good progress, with 200 archaeologists working across the scheme currently. More than 25 settlements have been uncovered so far, including Iron Age, Roman, Saxon and Medieval villages.

David Bray, A14 project director at Highways England, said: "The improvements we are delivering between Cambridge and Huntingdon are vital for the local area and for the country's economy. We set out to deliver world leading infrastructure improvements a year ago and this is exactly what we have been doing so far.

"We've been using innovative ways of working to speed up construction such as making our own concrete building parts on-site and using temporary bridges to move construction materials across site without having to use the main roads."

Julian Lamb, Construction Director, A14 Integrated Delivery Team, commented: "We are delighted to reach this milestone on the project, which has been made possible by the project team's extensive experience and capabilities, in addition to the collaborative nature of the A14 joint venture. The scheme is already delivering benefits to the local community, in the form of new infrastructure and work opportunities, and we look forward to continuing this positive contribution throughout the project's lifecycle."

To find out more about how the project is progressing, click here.

ENDS
Media enquiries to:
Cassie Farrar
Balfour Beatty
t:  +44 (0) 207 963 2150
e: cassie.farrar@balfourbeatty.com
For all non-media related enquiries please contact +44 (0)20 7216 6800 or info@balfourbeatty.com

Notes to editors:
Balfour Beatty (www.balfourbeatty.com) is a leading international infrastructure group. With 30,000 employees, we provide innovative and efficient infrastructure that underpins our daily lives, supports communities and enables economic growth. We finance, develop, build and maintain complex infrastructure such as transportation, power and utility systems, social and commercial buildings.
Our main geographies are the UK, US and South East Asia. Over the last 100 years we have created iconic buildings and infrastructure all over the world including the London Olympics' Aquatic Centre, Hong Kong's first Zero Carbon building, the National Museum of the Marine Corps in the US and the Channel Tunnel Rail Link.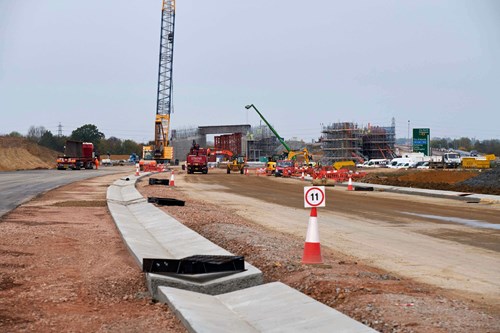 Image: A14 ground progress. Credit: Highways England