Last week, Balfour Beatty, the international infrastructure group, and Kier Construction handed over the new training facility for Army engineers at the former RAF Lyneham airbase in Wiltshire to the Ministry of Defence (MOD).
The DIO (Defence Infrastructure Organisation) was responsible for delivering the £121million infrastructure programme and construction was delivered through 'Hercules', a 50:50 joint venture between Balfour Beatty and Kier Construction.
The new facility is part of a £230 million investment in the site by the MOD to provide new accommodation for trainees, purpose-built enhanced training including classrooms, training suites, a large outdoor training area, a medical and dental centre, a gymnasium, an Officers' Mess and a new regimental museum.
Roger Frost, Balfour Beatty Project Director for Hercules, said: "'We are delighted to have worked on such a high profile major project for DIO.
"The scale of the 93-week construction project, which spans a 1,200 acre site and has employed over 1400 individuals at construction peak and 40 local companies during its lifetime, should not be underestimated – it reflects Balfour Beatty and Kier's reputation for safely delivering high-quality, sustainable solutions.
"We're very proud of what we've delivered here and our support for ex service personnel to secure employment along the way. We wish MOD Lyneham's new residents all the best in their new home."
Throughout the project Hercules worked with the Forces Career Transition Partnership, which assists military personnel to secure permanent work on completion of their service, and enterprise Works, a Swindon-based organisation which supports individuals with a disability, specifically injured ex-services personnel, to secure employment.
ENDS
Media enquiries to:
Antonia Edwards
Balfour Beatty
t:  +44(0)191 228 2715
m: +44 (0) 7813363166         
e: Antonia.edwards@balfourbeatty.com
Notes to editors:
Balfour Beatty (www.balfourbeatty.com) is a leading international infrastructure group. With 36,000 employees, we provide innovative and efficient infrastructure that underpins our daily lives, supports communities and enables economic growth. We finance, develop, build and maintain complex infrastructure such as transportation, power and utility systems, social and commercial buildings.
Our main geographies are the UK, US, Middle East and South East Asia. Over the last 100 years we have created iconic buildings and infrastructure all over the world including the London Olympics' Aquatic Centre, Hong Kong's first Zero Carbon building, the world's biggest shopping mall in Dubai, the National Museum of the Marine Corps in the US and the Channel Tunnel Rail Link.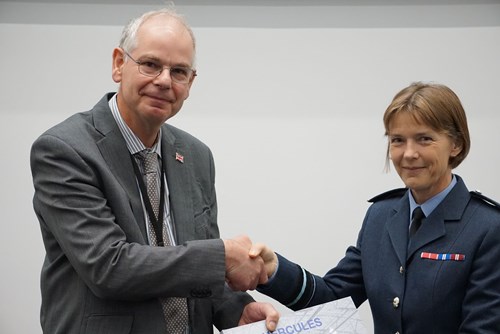 Photograph: Roger Frost, Balfour Beatty Project Director for Hercules and DIO's Director of Projects and Programme Delivery, Air Vice-Marshal Elaine West during the handover ceremony