Balfour Beatty today announces that its 50:50 joint venture, Gammon Construction, has been awarded a HK$4.75 billion (c. £490 million) contract to deliver an Advanced Manufacturing Centre (AMC) on behalf of the Hong Kong Science & Technology Parks Corporation.  
The contract will see Gammon deliver the 108,000m² AMC facility, including a seawater district cooling system. This system, which will be used to cool the entire AMC building, is a cost-effective and environmental friendly solution for building cooling. The works will include all mechanical, electrical and plumbing services, the building façade and a significant amount of steelworks.
To ensure the project's safe and efficient delivery, Gammon will deploy a wide range of innovative technologies and methods including BIM, modularisation and off-site manufacturing techniques to improve safety and quality and contribute to a significant reduction in the duration of the works programme.
Thomas Ho, Chief Executive of Gammon, said: "This impressive and complex facility for one of Gammon's long-term customers is designed to meet the increasing need for high-end on demand manufacturing in the region. This latest success is testament to our proven experience in constructing complex buildings and our market leading engineering and technical capability."
Early works commenced in Summer 2019 with completion expected in 2021. At construction peak, the project will employ a workforce of around 1,800. 
ENDS
Media enquiries to:
Megan Wood
Balfour Beatty
+44 (0)207 963 2150
megan.wood@balfourbeatty.com
www.balfourbeatty.com | follow us @balfourbeatty
All non-media related enquiries should be directed to +44 (0)20 7216 6800 or info@balfourbeatty.com
Notes to editors:
Balfour Beatty (balfourbeatty.com) is a leading international infrastructure group. With 26,000 employees, we provide innovative and efficient infrastructure that underpins our daily lives, supports communities and enables economic growth. We finance, develop, build and maintain complex infrastructure such as transportation, power and utility systems, social and commercial buildings.
Our main geographies are the UK, US and Hong Kong. Over the last 100 years we have created iconic buildings and infrastructure all over the world including the London Olympics' Aquatic Centre, Hong Kong's first Zero Carbon building, the National Museum of the Marine Corps in the US and the Channel Tunnel Rail Link.
Gammon Construction (gammonconstruction.com), headquartered in Hong Kong, is a 50/50 joint venture between Balfour Beatty and Jardine Matheson, the Asian-based conglomerate. The two companies have worked in partnership since 2004 to forge a reputation for delivering high quality projects for customers throughout China and Southeast Asia. The business is a major player in the Hong Kong and Singapore roads market. Gammon's service extends over the full project life-cycle, from initial site survey and design through construction to commissioning and ongoing maintenance.
Gammon's current project portfolio includes: The 'Tuen Mun-Chek Lap Kok Link – Northern Connection Tunnel Buildings, Electrical and Mechanical Works' contract worth HK$2.6 billion for the Highways Department of the Government of the Hong Kong Special Administrative Region. The construction of the Kai Tak West Section of the Central Kowloon Route in Hong Kong for the Highways Department of the Government of the Hong Kong Special Administrative Region worth HK$6.2bn. The construction of the Fullerton Ocean Park Hotel Hong Kong worth over HK$1bn for Parkland (Hong Kong) Limited. The HK$3bn development of eight medium rise residential blocks and four houses with a two-level basement overlooking Tai Po's Tolo Harbour in Northern Hong Kong, on behalf of Great Eagle Group. The Lyric Theatre Complex and Extended Basement project for the West Kowloon Cultural District Authority worth HK$5.5bn. The HK$2bn contract to build Hong Kong's first year-round, all-weather water-park for Ocean Park Corporation.
Iconic projects of the past include the HK$8.9 billion contract to construct the West Kowloon Terminus Station North for the Guangzhou–Shenzhen–Hong Kong Express Rail Link, which forms part of China's strategic national express rail network. The HK$5 billion Tamar development project to build the Central Government Complex and the Legislative Council.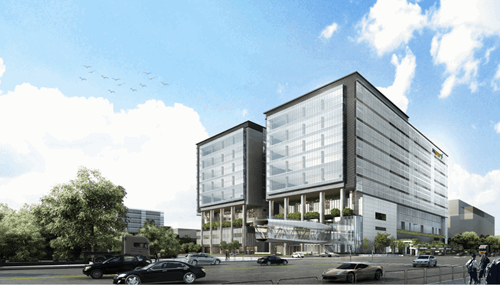 Image: Artist impression of the Advanced Manufacturing Centre