Balfour Beatty today announces that its 50:50 joint venture, Gammon, has been awarded a HK$2.6 billion (c. £300 million) contract on behalf of Mandarin Oriental Hotel Group to construct a new office building in Causeway Bay, Hong Kong.  
As part of the contract, Gammon will be responsible for the construction of a new 25-storey office building with associated retail facilities. Footbridges will also be built to connect the office block with the World Trade Centre Hong Kong as well as a shopping centre.
This latest contract award follows Gammon's appointment to demolish the Excelsior Hotel which previously occupied the site of the new office building.
Throughout the project, Gammon will adopt smart construction processes including the creation of a common data environment among contractors, consultants, supply chain partners and the client to enhance collaboration and drive efficiencies.
To reduce the project's carbon emissions and achieve BEAM Plus New Buildings Version 2.0 as well as LEED platinum certifications, Gammon will deploy the Enertainer – an electric-powered battery storage system developed in partnership with AMPD Energy. The Entertainer will be used as the primary power source for construction machinery on site, reducing the need for diesel generators.
Kevin O'Brien, Chief Executive of Gammon, said: "We look forward to working with Mandarin Oriental Hotel Group to bring back another exemplary building to the shoreline of Hong Kong Island, while showcasing our collaborative and digital approaches to modern construction that continues to evolve.
"The sustainable consideration and features of the design will enable the project to achieve the high level of green accreditation that this ambitious project is targeting."
Works will commence in late 2022 with completion expected in 2025. At construction peak, the project will employ a workforce of approximately 900 people.
ENDS
Media enquiries to:
Bryony Murch
Balfour Beatty
+44 (0) 207 963 2150
bryony.murch@balfourbeatty.com
www.balfourbeatty.com | follow us @balfourbeatty
All non-media related enquiries should be directed to +44 (0) 20 7216 6800 or info@balfourbeatty.com
Notes to editors:                                
Balfour Beatty is a leading international infrastructure group with 24,500 employees driving the delivery of powerful new solutions, shaping thinking, creating skylines and inspiring a new generation of talent to be the change-makers of tomorrow.
We finance, develop, build, maintain and operate the increasingly complex and critical infrastructure that supports national economies and deliver projects at the heart of local communities.
Over the last 113 years we have created iconic buildings and infrastructure all over the world including: the £1.5 billion A14 improvement scheme - Britain's biggest road project; Hong Kong's HK$5.5 billion world-class harbour theatre project for the West Kowloon Cultural District Authority; and the 12.5 mile $429 million North Metro Commuter Rail line in Colorado, US.
Gammon (gammonconstruction.com), headquartered in Hong Kong, is a 50:50 joint venture between Balfour Beatty and Jardine Matheson, the Asian-based conglomerate. The two companies have worked in partnership since 2004 to forge a reputation for delivering high quality projects for customers throughout China and Southeast Asia. The business is a major player in the Hong Kong and Singapore roads market. Gammon's service extends over the full project life-cycle, from initial site survey and design through construction to commissioning and ongoing maintenance.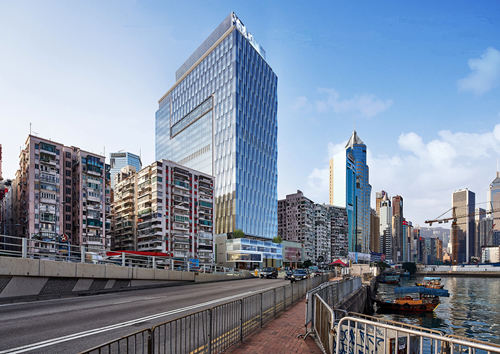 Image: CGI of new office building in Causeway Bay, Hong Kong