Last week, Balfour Beatty saw ten of its apprentices and trainees receive the Gold Duke of Edinburgh's Award (DofE). The apprentices collected their prestigious award from Alan Hinkes OBE, on behalf of HRH The Duke of Edinburgh at St James' Palace.
The DofE Award aims to inspire and transform the lives of those under the age of 25 and involves a number of activities, including volunteering in the local community, team building exercises, an expedition and for the Balfour Beatty achievers, an Institute of Leadership and Management Level 3 Award.
As a member of The 5% Club, a UK employer-led initiative focused on creating momentum behind the recruitment of apprentices and graduates into the workforce, Balfour Beatty has given its full support to the DofE programme to provide its apprentices with a formal development opportunity.
Peter Westgarth, Chief Executive of The Duke of Edinburgh's Award, said: ''For years, The Duke of Edinburgh's Award has inspired and transformed the lives of millions of young people, from all backgrounds and circumstances. Everyone receiving their Award has worked so hard to achieve this goal."
Tony Ellender, Emerging Talent Development Manager, Balfour Beatty, said: "This is a significant achievement for our apprentices for which they have all worked tirelessly to prove their commitment to the challenge and excel. The DofE Award will stand them in good stead for the future."
Speaking about his experience of the DofE programme, Thomas Hyland, a Project Engineer for Balfour Beatty Kilpatrick who started his career as an Electrical Apprentice said: "Securing my Gold Duke of Edinburgh's Award has been a fantastic experience and is one of my greatest achievements. From volunteering in the community to meeting new people from across the business, I have thoroughly enjoyed every minute.
It was, however, one of the toughest challenges I've ever faced. I have pushed myself to the limits both physically and mentally and I am extremely proud to have made it through. To receive such a prestigious award is a great honour."
The Gold Duke of Edinburgh's Award was run as a pilot alongside Balfour Beatty's Enhanced Apprenticeship scheme, which was introduced in 2015 to broaden the experience for apprentices entering employment within the company. Balfour Beatty continually invests in its apprentices, and offers a wide variety of opportunities within its programme.
ENDS

Media enquiries to:
Vivienne Dunn
Balfour Beatty
+44 (0)207 963 2150
vivienne.dunn@balfourbeatty.com
www.balfourbeatty.com | follow us @balfourbeatty
All non-media related enquiries should be directed to +44 (0)20 7216 6800 or info@balfourbeatty.com
Notes to editors:
• Balfour Beatty (www.balfourbeatty.com) is a leading international infrastructure group. With 34,000 employees, we provide innovative and efficient infrastructure that underpins our daily lives, supports communities and enables economic growth. We finance, develop, build and maintain complex infrastructure such as transportation, power and utility systems, social and commercial buildings.
• Our main geographies are the UK, US, Middle East and South East Asia. Over the last 100 years we have created iconic buildings and infrastructure all over the world including the London Olympics' Aquatic Centre, Hong Kong's first Zero Carbon building, the world's biggest shopping mall in Dubai, the National Museum of the Marine Corps in the US and the Channel Tunnel Rail Link.
• Balfour Beatty is a member of 'The 5% Club', a UK employer-led initiative focused on creating momentum behind the recruitment of apprentices and graduates into the workforce.
• Balfour Beatty Chief Executive Leo Quinn was the founding member of The 5% Club. Balfour Beatty joined in December 2013, the first company in the infrastructure industry to join.
• The Duke of Edinburgh's Award (DofE) is the world's leading youth achievement award that develops over 300,000 young people for life and work every year in the UK. Founded by HRH The Duke of Edinburgh in 1956, the DofE is currently being delivered in 13,218 DofE centres, supported by 1,800 partner organisations and approximately 50,000 adult volunteers from all walks of life. For more information about the DofE go to www.DofE.org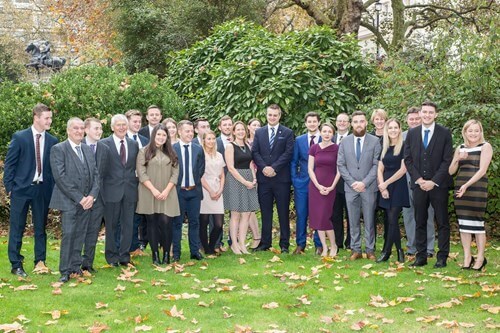 Image: Balfour Beatty apprentices and family members before the DofE ceremony