Balfour Beatty yesterday welcomed His Royal Highness The Duke of Edinburgh to its Raynesway facility in Derby, to meet with employees, including those from its Early Careers population who are currently participating in, or have completed, their Gold Duke of Edinburgh's (DofE) Award.
During the visit, The Duke met with 20 Balfour Beatty Graduates and Apprentices to understand the wide range of benefits that the DofE offers and the skills and knowledge they have developed.
Balfour Beatty began offering Gold DofE programmes – which aim to inspire and transform the lives of millions of young people from all backgrounds and circumstances – in 2014, to broaden the experience for young people who are employed within its business. The Duke met young people completing their DofE through DofE Business, which supports organisations to offer the DofE to the young people they employ.
Any Balfour Beatty employee who meets the eligibility criteria can apply to do their Gold DofE, as part of the extensive learning and development offering the company provides.
As part of the visit, The Duke of Edinburgh also toured Balfour Beatty's Rail Innovation Hub at the Raynesway facility, to see first-hand how the company is leading the charge in researching and testing digital solutions for the railway of the future. The Duke was also introduced to the company's robotic employee – 'Spot the Dog' – which uses 3D laser scanning technology to model construction sites remotely.
Jo Volk, Director of Resourcing, Engagement and Development at Balfour Beatty, who escorted The Duke around the facility, said: "It was an honour to welcome His Royal Highness The Duke of Edinburgh to Raynesway.
"As a member of The 5% Club, we have long been committed to investment in young people and supporting them to obtain the knowledge and experience they need to build their confidence and skills. The Duke of Edinburgh Gold Award programme is just one example of how we develop our people and help to shape careers.  We are really proud of our long and fruitful partnership with The Duke of Edinburgh's Award."
If you are interested in finding out more about Balfour Beatty's Early Careers programme, click here.
ENDS
Media enquiries to:
Henry Dummett
Balfour Beatty
+44 (0)203 810 2345
henry.dummett@balfourbeatty.com
www.balfourbeatty.com | follow us @balfourbeatty
All non-media related enquiries should be directed to +44 (0)20 7216 6800 or info@balfourbeatty.com
Notes to editors:
About Balfour Beatty
Balfour Beatty is a leading international infrastructure group with over 24,500 employees driving the delivery of powerful new solutions, shaping thinking, creating skylines and inspiring a new generation of talent to be the change-makers of tomorrow.
We finance, develop, build, maintain and operate the increasingly complex and critical infrastructure that supports national economies and deliver projects at the heart of local communities.
Over the last 114 years we have created iconic buildings and infrastructure all over the world. Currently, we are working to deliver Hinkley Point C, the first UK nuclear power station in a generation; constructing the world-class arts and cultural facility, the Lyric Theatre, in Hong Kong; and designing, building, financing, operating and maintaining the Automated People Mover superstructure at the fifth busiest airport in the world, Los Angeles International Airport.
Balfour Beatty is committed to attracting the next generation of talent. We want to inspire and educate people to consider the construction and infrastructure industry as an attractive long term career choice. As a member of The 5% Club, a dynamic movement of employers committed to providing 'earn and learn' positions', we continue to provide young people with the skills and experience they need to build strong, future careers.
About the DofE     
Every year, the DofE inspires hundreds of thousands of young people – from all walks of life – to develop skills, resilience and self-belief. We help them take on their own challenges, follow their passions, make a difference to their communities and discover talents they never knew they had.
DofE is open to any young person aged 14-24. Each young person builds their own DofE programme – picking their own activities and choosing which cause to volunteer for – in order to achieve a Bronze, Silver or Gold DofE Award. The DofE is run in schools, youth clubs, hospitals, fostering agencies, prisons, sports clubs and more, all over the UK. Find out more at DofE.org.
About DofE Business
DofE Business was developed in 2007 to bring the benefits of achieving a DofE Award from school right through to the workplace. The DofE is an integral part of young talent development in leading businesses including Balfour Beatty, Royal Mail, and Heathrow. The DofE supports businesses to deliver the DofE Award to their young people and help them develop essential skills – like communication, teamwork and resilience – to create the leaders of tomorrow.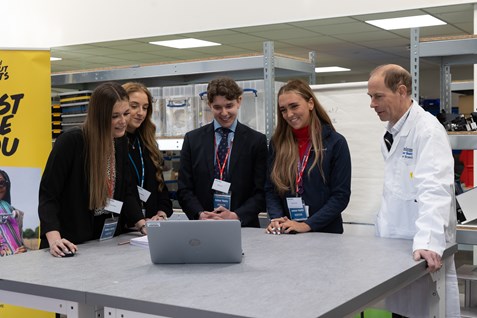 Image: His Royal Highness The Duke of Edinburgh meeting Balfour Beatty's Apprentices