Balfour Beatty, the international infrastructure group, is taking the construction site into the classroom as part of its latest efforts to inspire young people to take up a career in the industry.
In collaboration with Scape Group, the public sector owned built environment specialist, Balfour Beatty recently hosted its largest ever interactive broadcast with their supplier Learn Live UK. Over 3,000 students, aged between 11 and 18, participated in the live feed, to learn about careers in construction and engineering.

With 30 schools across England already engaged in the programme, the group is planning to reach thousands more students with further interactive sessions planned in Wakefield, Wick, Thurso and Hampshire. The approach supports Balfour Beatty's commitment to The 5% Club, a UK industry-led initiative focused on creating momentum behind the recruitment of apprentices and graduates into the workforce.

The sessions, aimed at opening up construction and engineering to students from different backgrounds and cultures, involved live video feeds from employees on current Balfour Beatty led projects, including the Baltic Triangle in Liverpool and the M1 development near Leicestershire. The opportunity enabled students to observe engineering works being undertaken on a new motorway bridge; as well as see the view and control panel in an "office in the sky", atop of one of our tower cranes. Whilst learning about careers in construction management, students were also encouraged to ask questions about the options available.

Mark Farrah, Balfour Beatty Regional Managing Director, North and Midlands, said: "With predictions showing that 400,000 construction workers are set to retire in the next five to ten years, it's imperative that we take significant steps to open up the industry and to encourage our future workers to consider construction as a rewarding career path.

 "We're giving students the opportunity to see for themselves the type of projects they could get involved in and, through the live video interaction that they've come to expect, they can ask questions of workers out on site via their tablets and smartphones."

Mark Robinson, Scape Group Chief Executive, said: "Attracting talented young people to construction is one of the biggest challenges the industry is currently facing. It is absolutely vital that we address the skills gap if we are to deliver the new infrastructure that the country and the Northern Powerhouse urgently needs, but the only way to do this is to engage young people in the sector and show them the great careers on offer. 

"This interactive broadcast programme is a fantastic way of digitally engaging this tech-savvy future generation of workers, inspiring thousands from across the county to think about a career in construction, whilst giving them the opportunity to see the wide range of projects they could be getting involved with."

A Year 9 Student, at Our Lady and St John in Blackburn, said: "It was the first time we've used this kind of technology in school and it was really great. I really liked the way it was live from different parts of the country and that the presenters answered our questions while we were watching the broadcast."


ENDS

Media enquiries to:

Gill Stephens
Balfour Beatty
t:  +44 (0) 207 121 3873
e: Gill.stephens@balfourbeatty.com
For all non-media related enquiries please contact +44 (0)20 7216 6800 or info@balfourbeatty.com

Notes to editors:

• Balfour Beatty (www.balfourbeatty.com) is a leading international infrastructure group. With 34,000 employees, we provide innovative and efficient infrastructure that underpins our daily lives, supports communities and enables economic growth. We finance, develop, build and maintain complex infrastructure such as transportation, power and utility systems, social and commercial buildings.
• Our main geographies are the UK, US, Middle East and South East Asia. Over the last 100 years we have created iconic buildings and infrastructure all over the world including the London Olympics' Aquatic Centre, Hong Kong's first Zero Carbon building, the world's biggest shopping mall in Dubai, the National Museum of the Marine Corps in the US and the Channel Tunnel Rail Link.
• Balfour Beatty is a member of 'The 5% Club', a UK industry-led initiative focused on creating momentum behind the recruitment of apprentices and graduates into the workforce. Chief Executive Leo Quinn was the founding member of the 5% Club. The Company is committed to ensuring that, within five years of joining, at least 5% of its workforce consists of Apprentices, Graduates and Sponsored Students.
• Scape Group is a public sector owned built environment specialist offering a full suite of national frameworks and innovative design solutions. Scape frameworks are available to any public sector body and currently over 500 organisations have access to these solutions. Scape currently operates a suite of seven national frameworks, including the Civil Engineering and Infrastructure Framework led by Balfour Beatty.  For more information visit: www.scapegroup.co.uk
• Learn Live (www.learnliveuk.com) is an innovative, interactive, live online portal that brings a world of opportunity and experiences directly into the classroom. Each interactive Learn Live broadcast can be attended by up to 100 schools/colleges or classrooms (200 by October 2016) simply by entering an online meeting room. The meeting rooms can be customised to showcase an organisation's key messages, provide live video feeds, play and share video content and applications and act as a repository of information that can be downloaded by teachers and students. It is a secure, closed system that can be used with iPads, iPhones, Apple TV, PC/ laptop, Macs and Androids.  Schools wishing to participate should contact Kevin Hutchinson, Balfour Beatty Sustainability Manager, kevin.hutchinson@balfourbeatty.com.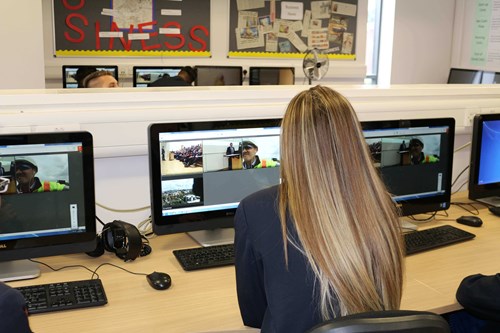 Photo: Student participating in Balfour Beatty broadcast